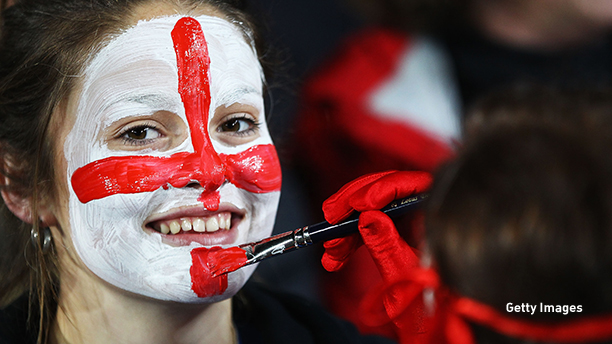 Anyone who has spent time in the United States will understand that the country rightly prides itself on its own sports. NFL dominates the sporting landscape, while its predecessor, rugby, enjoys only limited popularity; instead of cricket, baseball is preferred; and while soccer is certainly growing here, you're still more likely to hear about basketball's LeBron James than you are about football's Wayne Rooney.
And then there are sporting traditions—customs we ritualistically associate with certain sports. And so, while luminaries attending the Kentucky Derby might be just as prone to donning eye-catching hats as those attending Ascot, there are nonetheless a wealth of sports customs Brits won't find in the United States—customs that American Anglophiles would do well to check out. Here are five of them.
Singing "Swing Low, Sweet Chariot" during rugby games
As I've already documented, rugby—and its helmetless ways—continues to live in the shadow of the National Football League here in the U.S. And so it is perhaps hardly surprising that Americans don't indulge in the following at rugby matches (or, indeed, at sports events of any kind)—singing "Swing Low, Sweet Chariot." The song has become particularly associated with the England national side after the crowd at Twickenham offered its infectious rendition during each try in England's 1988 comeback victory against Ireland. Since then, the song has enjoyed minor success in the British pop charts; it was first released as England's official 1991 rugby World Cup song and later, for the 2003 tournament, as a reggae version by UB40.
Some might consider it ironic that the song has yet to be adopted by sports fans in the United States, since "Swing Low, Sweet Chariot" has its roots in America, having been penned by emancipated slave Wallace Willis. Nonetheless, it is certainly a tradition British expat rugby fans might well pine for. And of course, it is not the only historically American tune to be associated with British sports, as shown by the next entry.
Singing "You'll Never Walk Alone" before kickoff
Originally composed by American musical theatre legends Rogers and Hammerstein for the musical Carousel, "You'll Never Walk Alone" is well-known for two other reasons in Britain: firstly, it was a big hit for the '60s Merseyside group Gerry and the Pacemakers; secondly, it is the stadium anthem for two of Britain's most successful football teams. Shortly after it became the Pacemakers' third U.K. No. 1 hit, "YNWA" (as it is often abbreviated) was adopted as the anthem of Liverpool F.C., whose supporters continue to sing it with near patriotic fervor moments prior to kickoff.
This pop-to-football transition was so successful that the tune found its way north to Scotland, where the fans of Glasgow Celtic have also adopted it. Indeed, the song is an anthem for successful clubs all across Europe, but it has not yet found its way into the soccer stadiums of America—the country that gave birth to it. Perhaps Liverpool fans will change that. I have heard more than my fair share of Liverpool supporters—particularly during the team's successful league campaign last year—singing it in the pubs over here.
Boxing Day sporting events
One of the things I, as both a sports fan and a British expat, notice most around the holidays is the lack of emphasis placed on Boxing Day sporting events here in the U.S. It could be argued that this absence owes a lot to the fact that Americans don't celebrate Boxing Day. But what's in a name? After all, Boxing Day is just the day after Christmas Day, right? It is also the day when a full program of football and rugby league commences across the UK, adding to the magic of the season for fans of either sport.
For Brits, the sense of excitement rolls on even after all the wrapping paper has been summarily discarded to the dustbin. Knowing that another day off from work is to be accompanied by action from their favorite sport is what, for many Brits, makes Boxing Day the favorite of the winter season. For Americans, meanwhile, December 26 is neither a federal holiday nor a day of particular sporting note beyond an odd bowl game in college football. While catching Premier League action is fairly easy in the U.S., there's no guarantee for expats that these Boxing Day fixtures won't coincide with a business meeting or a project deadline. You've been warned.
Tuning in to the annual boat race
The story of British sporting traditions could hardly be written without mentioning the Oxford-Cambridge boat race. But it would do a disservice to the oarsmen of Harvard and Yale to suggest that the United States doesn't have its own equivalent for expats to enjoy. Indeed, the Harvard-Yale Regatta is second only to the Oxford-Cambridge race as the oldest of its kind in the world. However, the difference here lies in the televisual aspect. Whereas around 15 million Brits (about one quarter of the population) tune in to the boat race every year, the Harvard-Yale Regatta (and other American college races) barely gets a look-in by the networks. For expats looking to catch a glimpse of the Oxford-Cambridge race, it might be worth attending an event in person or watch via the Universal Sports network.
Supporting the homegrown tennis underdog
Until Andy Murray's Grand Slam victory at Wimbledon in 2013, Britain had waited almost 80 years for one of its own to win the Wimbledon Championships in the men's singles division. During that time, Brits—whether fanatical tennis enthusiasts or casual channel surfers—have tuned in every year in the hope that this could be the year it all changes. Since the days of Roger Taylor in the 1970s, national backing for a British underdog at Wimbledon has become a tradition all of its own; throughout the 1990s and early 2000s, Brits would pin their hopes on Tim Henman, who would often come tantalizingly close to reaching the Wimbledon final. His and Murray's tournament progressions have routinely gripped the nation, even despite the commonly disappointing climax.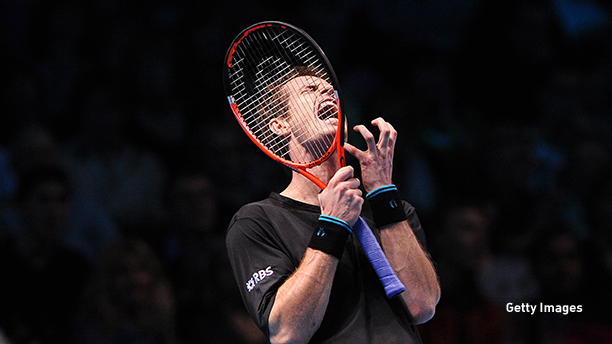 Perhaps owing to the Grand Slam successes of players like John McEnroe, Jimmy Connors, Andre Agassi, Pete Sampras, Chris Evert, Martina Navratilova, and the Williams sisters, the same cannot be said of the U.S., where interest in Grand Slam tennis action (even that of the U.S. Open) often seems comparatively thin. That said, expats can still follow Andy Murray's Wimbledon exploits on ESPN each year, so long as said expats are prepared to cry alone in front of baffled Americans.
See more:
A British Soccer Fan on the Unique Appeal of the NFL
Brits in America: Which U.S. Sport Is For You?
2014-15 Premier League Preview: A Team-By-Team Analysis
Read More
Filed Under: