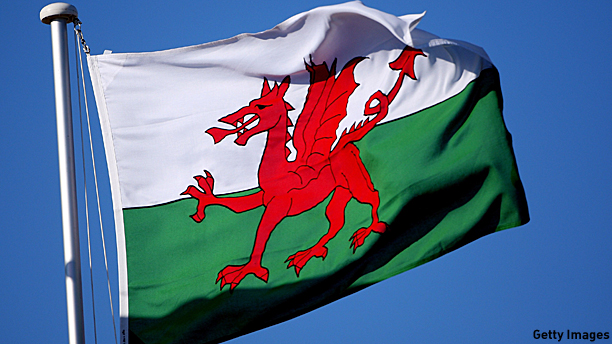 What it is, right…
To judge by popular culture alone—Gavin & Stacey, I am looking at you—the Welsh are presented as a largely cheery nation, fond of the rugby and the ale, with a few linguistic peculiarities that are all charm and whimsy, like "Whose boots are those shoes?" "Now in a minute" and "What are you up to now then later?"
They are not often credited with deep wisdom, which does them a deep disservice as a nation. So, by way of late recompense, here's a lush selection of tidy Welsh proverbs that only a bewt* would seek to ignore.
• A ddwg ŵy a ddwg fwy
Translation: He who steals an egg will steal more.
• Côf a lithr, llythyrau a geidw
Translation: Memory slips, letters remain.
• Deuparth gwaith yw ei ddechrau
Translation: Starting the work is two thirds of it.
• Dywed yn dda am dy gyfaill, am dy elyn dywed ddim
Translation: Speak well of your friend; of your enemy, say nothing.
• Gorau prinder, prinder geiriau
Translation: The best shortage is a shortage of words.
• Gwell fy mwthyn fy hun na phlas arall
Translation: Better my own cottage than the palace of another.
• Gwell swllt dda na sofren ddrwg
Translation: Better a good shilling than a dud sovereign.
• Gair I gall, ffon I'r anghall
Translation: A word to the wise, a stick to the unwise.
• Haws twyllo maban na gwrachan
Translation: A boy is easier cheated than an old lady.
• Hir yw pob ymaros
Translation: All waiting is long.
• Na ad i'th dafod dorri'th wddf
Translation: Let not your tongue cut your throat.
• Tyfid maban, ni thyf ei gadachan
Translation: The child will grow, his clothes will not.
• Segurdod yw clod y cledd
Translation: A sword's honor is its idleness.
• Hen y teimlir ergyndion a gaed yn ifanc
Translation: The old feel the blows suffered when young.
• Heb ei fai, heb ei eni
Translation: He who has no faults is not born.
• A fo ben, bid bont
Translation: If you want to be a leader, be a bridge.
• Dyfal donc a dyr y garreg
Translation: Tapping persistently breaks the stone.
• A fynno glod, bid farw
Translation: The best way to gather praise or recognition is to die.
• Meistr pob gwaith yw ymarfer
Translation: The achievement of all work is practice.
• Mwyaf y brys, mwyaf y rhwystr
Translation: The greater the hurry, the more obstacles there are.
• Haul gwanwyn, gwaeth na gwenwyn
Translation: The spring sun is worse than poison.
• Ni edrych angau pwy decaf ei dalcen
Translation: Death considers not the fairest forehead.
• Ewyn dwfr addewid gwas
Translation: A youth's promise is like the froth of water.
• Ceffyl da yw ewyllys
Translation: The will is a good horse.
And finally…
• Cenedl heb iaith, cenedl heb galon
Translation: A nation without a language is a nation without a heart.
* idiot.
See more:
25 Scottish Sayings That Will Get You Through Life
Fraser's Phrases: Five British Sayings to Live By
20 Victorian Terms That Seem Oddly Modern
How Did Anyone Understand Shakespeare At The Time?
Read More
Filed Under: