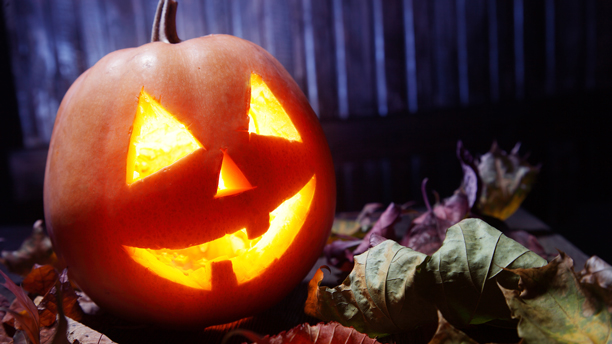 Want to go all-out this year and show your U.S. friends that British expats know how to have spooky fun? Throw a Halloween party complete with terrifying decorations and food 'n' drink that'll give your guests chills. Here are 13 scarily simple tricks and treats.
Spider ice cubes
Purchase some cheap plastic spiders. Insert one bug into each well of an ice cube tray. Add water and freeze. This also works fine with other small plastic critters. If you have time to spare, try this truly chilling glowing, severed-hand punch.
Shots in a syringe
If you have young children, chances are you've built up a collection of rather sinister looking oral syringes that come with Infant Tylenol and Ibuprofen. These can be recycled as "spirit dispensers" for adults. If you don't already own a bunch of these, you can pick them up cheaply at any drugstore. Fill with vodka (or any clear liquor) dyed red with food coloring.
Bat garlands
Nothing sets off a venue like a bit of jauntily strung bunting. This eerie yet cool bat version will make your Halloween party a screaming success.
DIY mummies
Take one juice box and bind with cheap, drugstore-bought bandages. Then stick on a pair of googly eyes. Repeat until you have a mummified army rich in Vitamin C. For more dramatic at-home mummification, wrap giant bandages around your inside doors. Complete the look with giant, stick-on eyes.
Spooky cupcakes
Use a fat, round nozzle to ice 3D white frosting "ghosts" on cupcakes. Add chocolate chip ghost eyes.
Glow stick scariness
You'll need pack of glow sticks, balloons, a sharpie and a bunch of toilet rolls to create two of the easiest homemade Halloween decorations ever. Place a lit glow stick in a balloon, blow it up, and pen on a scary face. Repeat. Next, take a toilet roll and cut out a pair of scary eyes. At night, insert glow sticks and scatter the TP rolls about your outdoor space—trees and bushes work best.
Creepy candles
Dribble wax from a red candle onto white ones to make them "bleed." Looks every bit as sinister as it sounds.
Pimp your pumpkin
Just because you're less artistically capable than the average toddler doesn't mean you can't create a carved pumpkin that'll be the envy of the neighborhood. Hollow out your specimen—saving the slimy innards—then chisel a stupid face with a large, open mouth (you can manage that, right?). Next, drape the seeds and connective tissue from the pumpkin's mouth on the surface below. A vomiting gourd makes a great centerpiece! Enhance this ill effect by using green food dye to stain the inner walls. Oh, and use this clever trick to gain easy access to your pumpkin's insides.
Surgical glove goodie bags
Stuff gloves with candy and tie at the wrist. Top fingertip: shove something tubular (Love Hearts? A line of Tootsie rolls?) in the digits so they keep their shape.
Toilet tricks
Your party guests will probably need to use the loo at some point so don't forget to give your bathroom a terrifying makeover. How about fake bloody handprints on towels? Probably shouldn't use your luxury Egyptian cotton.
Protect your treats
If you haven't the patience to personally hand candy to herds of children, leave a bucket or bowl on your lawn or stoop and let them help themselves. However, there's no honor among sucrose-hopped seven-year-olds, so this plan on its own will fail immediately. Attempt to keep them honest by pitching a menacing sign next to your offering. Something like: "One candy bar per child. I'm watching you!" Or even better "… my hungry pet werewolf is watching you! He hasn't eaten in weeks, and his favorite food is naughty children."
Throw the best party ever
We've all suffered through those lackluster Halloween bashes where barely anyone dresses up, and the only decoration is a miserable pumpkin on a shelf. Don't let this be your party. First, insist that all your guests wear costumes. Go overboard with decorations and add this spooky extra: write sinister messages on any white walls or ceilings in your venue with glow-in-the-dark marker (or chalk if you want to be able to wash it off afterward). At some point during the party turn off the lights, sit back, and wait for the reaction.
Great costume, no effort
Dressing up for Halloween has evolved into a kind of visual open-mic night. We trawl roundups of the years' top news stories, choose one, and satirize. Great, if you can pull it off, but it's a lot harder than it sounds. And yes, in case you were wondering, it's too soon to "do" Ebola, so cancel your Amazon order for a HAZMAT suit. If you're not feeling the current affairs approach, or procrastinated so you need something that's no more effort than dressing in your usual attire, throw a white sheet over your head, grab a pen, and go as a ghost-writer. Easy.
Tweet us your best Halloween photos using #MindTheChat, and join @MindTheGap_BBCA and Halloween blogger @EmmaRaeCurtis on Twitter Wednesday, October 29 from 2 – 3 pm ET for a special, spooky celebration of the holiday. Two lucky participants using the hashtag #MindTheChat will win a Doctor Who 2015 wall calendar, courtesy of the BBC Shop.
And Virgin Atlantic is asking all Brits in America to share photos of their favorite American Halloween festivities for a chance to win an "American Halloween Starter Kit" to be delivered to a loved one back in the U.K.! To submit, tweet your photo to @Virgin_Atlantic using #BritishExpats, Instagram by tagging @VirginAtlantic using #BritishExpats, or like Virgin Atlantic's Facebook page and post a photo to the contest post with #BritishExpats. The contest will run from Thursday, October 23 to Wednesday, October 29, with the winner being announced at 3:30 pm on the last day of the contest. See terms and conditions.
Read More
Filed Under: