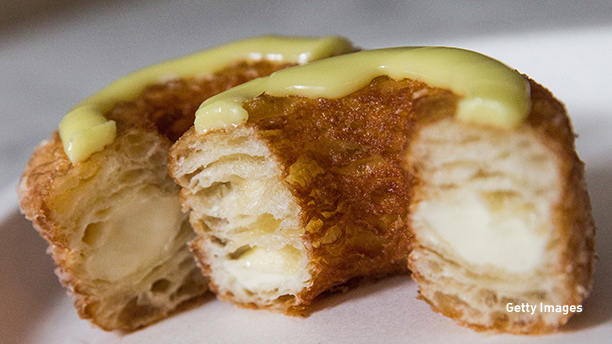 New York City has long been a melting pot of gastronomic invention and reinvention. What follows is a list of some of the Big Apple's signature dishes, both classic and modern. (This is by no means a definitive list, as food is, of course, a highly subjective and emotional topic.)
Pastrami sandwiches at the Second Avenue Deli
The first thing you should probably know about the Second Avenue Deli is that it's not on Second Avenue. It used to be, from when it first opened in 1954 until 2006 when a dispute with the landlord pummeled the eatery into fiscal submission and a forced relocation to East 33rd Street between Third and Lexington Avenues. Anyway, enough with the geography already, let's talk pastrami. It's thin, lean and melts in your mouth like a lemon drop above a chimney top. It's Jewish soul food at its most geschmack-iest. Vacationers on the hunt for a pastrami sandwich often get pointed toward Katz's (the Lower East Side restaurant where Meg Ryan famously faked an orgasm in When Harry Met Sally…), but Katz's something of a tourist trap; the Second Avenue Deli is for real New Yorkers.
Pizza at Patsy's Pizzeria
There are a few iconic New York pizza parlors that could've made this list (Lombardi's, Joe's, Ray's to name three) but, of them all, Patsy's is perhaps the most notorious due to its former famed frequenters and tumultuous history. From 1880 to 1920, a great surge of Italian immigrants (more than four million of them) came to start a new life in America, many of them settling on the East Side of Upper Manhattan. (In fact, Manhattan's original Little Italy was in the area now known as Spanish Harlem.)
In 1933 Pasquale 'Patsy' Lanceri opened his pizzeria at 2287 First Avenue, catering to fellow expatriates and curious natives alike. Patsy's thrived and soon became a favorite celebrity hangout for stars like Frank Sinatra and Dean Martin, Joe DiMaggio and Yogi Berra. The secret to Patsy's pizzas' yumminess is that they're cooked in a coal oven, which makes a big difference in the texture of the crust compared with pizza cooked in wood ovens (because a coal oven burns around 200 degrees hotter).
When Patsy died in 1974, his widow sold the name and branding rights. This caused a family feud when her nephew, Patsy Grimaldi, was forced to change the name of his Brooklyn pizzeria from "Patsy's" to "Grimaldi's." (Patsy Junior never paid the corporation that bought the name a licensing fee and they sued him.) Legend has it that Patsy's was the first pizzeria to sell pizza by the slice, so going there is to indulge literally in a slice of history.
Hot dogs at Nathan's
In 1912, 22-year-old Nathan Handwerker left his hometown of Kraków, Poland and immigrated to the United States with nothing but some meager savings and a suitcase full of dreams. Upon arrival in New York, the young Handwerker found work slicing rolls of bread for frankfurters at a German restaurant named Feltman's in Coney Island. By 1916, Handwerker saved $300 from his $11 per week salary and decided to go it alone. He bought a hot dog stand and set up shop on the corner of Stillwell and Surf Avenues in Coney Island (the location remains a Nathan's to this day).
To drum up business, Handwerker undercut Feltman's prices and sold his hot dogs for a nickel rather than a dime. History proved that this five-cent slashing was a shrewd business move because over the next few decades Nathan's thrived while Feltman's demised. These days Nathan's is a world-renowned franchise and is perhaps equally as famous for its hot dogs as its Fourth of July Hot Dog Eating Contest. This year's contest was broadcast live on ESPN and saw Joey 'Jaws' Chestnut crowned champion after devouring an impressive 61 hot dogs in ten minutes. Now that's serious athleticism.
Heroes at Defonte's
Defonte's is the kind of neighborhood New York sandwich shop where you can overhear construction workers or cops say things like "Fuhgeddaboudit" and "Badda bing, badda boom." Situated near the old shipyards of Red Hook, Brooklyn, Defonte's is a family-run place that's been making heroes for New York's working classes since 1922. The sandwiches come in two sizes: "small" and "large." They really should be named "absolutely massive" and "there's no way you can eat all this unless you happen to be Joey 'Jaws' Chestnut."
Dim sum at the Nom Wah Tea Parlor
In operation since 1920, this little dim sum joint nestled in the heart of Chinatown claims to be the first restaurant in the city to have served the popular Cantonese cuisine. It's located at 13 Doyers Street; a one-block back-alley peppered with barber shops and punctuated by a sharp bend in the middle. The restaurant itself has a unique 1950s diner feel for a dim sum place—ruby red leather seating under red-and-white-checkered tablecloths—but don't be fooled by the décor because you won't find any apple pie here. The waitstaff don't come around with dishes stacked on carts like at traditional dim sum places, mainly because this place is more tourist than purist. Once you get over that disappointment, however, the food is very palatable indeed. Recommended dishes include "The Original" egg roll, scallion pancakes, shrimp dumplings, house special roast pork buns and the turnip cakes. All washed down, of course, with a lovely cup of tea.
Hamburgers at P.J. Clarke's
As someone who has eaten more than his fair share of hamburgers in New York, it was tough to choose a single place. The truth is, you can find a good hamburger almost anywhere in this city and nearly every eatery you enter claim to have been voted "New York's Best Hamburger" by at least one publication. One of the notable differences between ordering a burger in the U.K. and the U.S. is in America you're always asked how you want your meat cooked. Shockingly, this almost invariably never happens in Britain. On a recent trip to a London restaurant, I bamboozled a waiter when I asked for my burger medium rare. "I don't know what you mean," he said, "it comes how it comes." What he meant by this was "it comes totally overcooked," and at that moment I realized why Americans always say the food in Britain is so bad—it's because it is.
Anyway, if rich cultural history's your thing, you can sit at the mahogany bar at P.J. Clarke's and practically drink it down. The establishment has other locations now, but the original one that began as a watering hole in 1884 is at 915 Third Avenue at 55th Street. Some famous faces to have haunted P.J.'s include Frank Sinatra (considered the "owner" of table #20), Jackie Kennedy, Buddy Holly, Nat King Cole, Dick Clark and Liza Minnelli.
Noodles at Momofuku Noodle Bar
This trendy East Village Asian fusion restaurant almost feels like a fast food joint because of how quickly the experience is over. Indeed, it's not uncommon to spend more time standing in line than dining (they don't take reservations). But if you're a foodie, it's always worth the wait. For appetizers, get buns (pork, shrimp or shiitake mushroom). Momofuku's buns are as soft as marshmallows and what's inside will perform a dance of deliciousness on your tongue. The spicy miso ramen is to-die-for. Served with a poached egg that melts into the broth the way sunsets melt into the ocean, you'll want to slurp up every last smoky drop. Communal seating means you can't be afraid to snuggle up with strangers.
Cronuts at the Dominique Ansel Bakery
In New York City, queues for food often become a self-fulfilling prophecy. Because people know there's always a line for the limited edition Cronut™ at the Dominique Ansel Bakery, eager foodies become encouraged to wake up at 5 a.m. to stand around, in all types of weather, for three or more hours, just to get their paws on this croissant/donut hybrid. Don't get me wrong, the Cronut™ is good, but is it stand-around-in-a-polar-vortex-for-three-hours good? Debatable. Anyway, this pastry has helped New Yorkers sooth the hangover left by the early noughties cupcake craze.
Cheesecake at Junior's
Harry Rosen was born to Ukrainian immigrants in 1904 in the Lower East Side of Manhattan. At 13, he dropped out of school to work as a soda jerk, eventually saving enough money to open his sandwich shop, Enduro, in Manhattan. By the 1930s, Rosen's empire had grown to four shops in Manhattan and one in Brooklyn. However, the depression hit Rosen hard, and he had no choice but to sell all of his Manhattan locations. The bad luck would eventually prove to be a blessing, though, for it forced Rosen to completely renovate his remaining Brooklyn restaurant to keep up with the times and in 1950, Junior's opened for business. Junior's was (and still is) a full-service restaurant, but don't go there for an entrée, go there for the cheesecake. You won't regret it.
Ice Cream at the Big Gay Ice Cream Shop
This company began life in a rented beat-up ice cream truck in June 2009 and quickly became the talk of the town. In its five years of existence, the company has grown to include two Manhattan locations (one in the East Village, one in the West Village) with additional stores in Philadelphia and Los Angeles coming in late 2014. Owners Douglas Quint and Bryan Petroff wanted to offer sweet-toothed New Yorkers traditional soft-serve flavors with a Big Gay twist. Best-selling treats include the Salty Pimp (vanilla ice cream, dulce de leche, sea salt, chocolate dip), the Bea Arthur (vanilla ice cream, dulce de leche, crushed 'nilla wafers) and the Gobbler (pumpkin butter & maple syrup or apple butter & bourbon butterscotch, pie pieces and whipped cream). Expect banter with the staff while ordering and then to fall into a sugar coma shortly thereafter.
What are your favorite New York dishes and where's the best place to find them? Tell us in the comments below:
Join @MindTheGap_BBCA on Twitter Wednesday, October 15 using hashtag #MindTheChat for a discussion of the best restaurants in your area. Tweet your favorites using #MindTheChat.
See more:
10 Things New Yorkers Can Learn From Londoners
10 Things Londoners Can Learn From New Yorkers
WATCH: Interview with Chris Sell, British Founder of New York's Chip Shop
Read More
Filed Under: