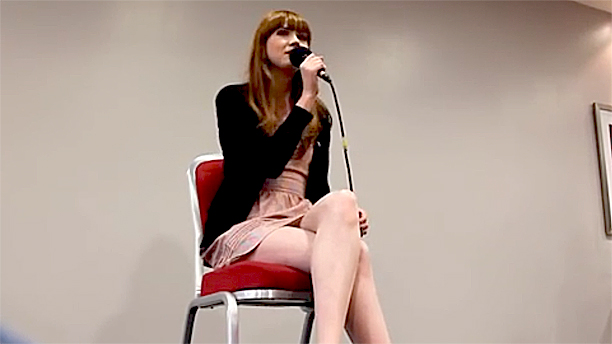 While there is some crossover between the disciplines of music and theatre—actors becoming singers, singers becoming actors—it's fair to say that each makes very singular demands on the charisma of the performers.
So while David Bowie is an enormously charismatic rock star, as an actor, he's David Bowie, and therefore best suits roles in which his essential David Bowie-ness is crucial to the part. Similarly, actors that may be excellent at burying themselves in a role, or subtly delivering a devastating emotive moment simply by raising an eyebrow may discover that music, and pop music in particular, is a far brasher beast, requiring bigger and more expansive gestures (and the ability to sing).
And then there are the actors who are simply happy to perform, whether its prose, poetry or rap lyrics. All anyone has to do is shout "action" and they're good to go. These are the people this collection aims to celebrate.
Let's start with Simon Pegg reciting the lyrics to Pharrell Williams' "Happy" as if it's a commercial for a powerful cough syrup:
This is a startling clip. Just a routine interview with Tom Hiddleston about The Avengers, and a not uncommon query about what he may have on his iPod, and then, from out of nowhere comes this rendition of "Miami" by Will Smith. He's not even doing the Fresh Prince of Bel Air theme like everyone else does. This is a deep cut, relatively speaking.
This never gets old: Arthur Darvill's version of "Let It Go" from Frozen, subtly (note: not subtly) reworded to suit his situation as a very famous former member of the Doctor Who cast. They're not his lyrics, by the way.
And while we're on old favorites, who could forget Benedict Cumberbatch's immaculate reading of the lyrics to R. Kelly's "Genius"? One of the defining meeting points between high theatricality and raw animal sexuality (and you'll note we make no claim as to which is which).
And while having a dig about for that clip, this one popped up, in which Benedict is instructed by Dawn French (of The Vicar of Dibley fame) and her comedy partner Jennifer Saunders (Absolutely Fabulous) to intone Elton John's "Candle in the Wind" in his best Alan Rickman voice. It's like something out of a crazy dream:
But not as crazy as the sight of cool, calm Martin Freeman—Benedict's Sherlock pal—in a yellow string tank top and a sideways baseball cap beatboxing with Sacha Baron Cohen in Ali G Indahouse. That's the kind of dream you get after an abundance of cheese, eaten while feverish, and under heavy sedation:
Time for some actual Doctor Who hip hip now, starting with Craig Ferguson improvising a rap explaining the premise of his favorite TV show while Matt Smith beatboxes. 30 seconds of this and you will most definitely forget about Dre.
The brilliant thing about clips from conferences, like this one in which Karen Gillan raps the introduction to the Spice Girls song "Wannabe," is that they often clip off the question, leaving fans wondering exactly what can have been said to encourage a star to abandon the classic Comic Con demeanor—y'know, basically keen but also far more relaxed and floppy than they ever are when on camera—and suddenly start singing, while sitting on a plinth, alone.
Meanwhile, young Daniel Radcliffe goes to the exact opposite extreme, musically speaking, but with no less of a tongue-twister. During an appearance on The Graham Norton Show he launched into a remarkable a capella rendition of "The Elements," Tom Lehrer's expert musical laying out of the periodic table.
And to round off, none of your modern rubbish. Here's Peter Capaldi singing a couple of hits by the Beatles and Patsy Cline, just to see the look first on Hugh Laurie's face, and then Anna Chancellor's.
Incidentally, should you wish to investigate Fortysomething, the series that this clip comes from, you'll not only find Hugh and Anna and Peter, but a young Benedict Cumberbatch too. Throw in a Harry Potter star or two and it's like an Anglophenia Full House.
See more:
Poetry Day: 10 British Actors Read 10 British Poems
WATCH: Emma Thompson Sings 'Sweeney Todd's "Worst Pies in London"
Tom Hiddleston Sings His Heart Out as Young Captain Hook
Hey, Good Lookin': Tom Hiddleston To Play Hank Williams
Read More
Filed Under: