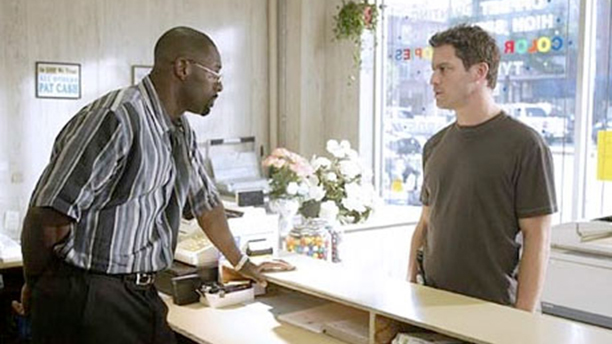 It might be a bit of gossip, but word on the street (isn't that something they'd say in The Wire) is that Wire alums Idris Elba and Dominic West may be reuniting in the Finding Nemo sequel, Finding Dory, reports Entertainment Weekly.
It hasn't been officially announced, but West sort of spilled the beans in a recent interview with Shortlist magazine saying, "I saw Idris recently. We're both in the sequel to Finding Nemo, so we were recording that."
Well, a little more than "sort of," he flat out said they're both on deck, in the studio contributing their voices to the undersea adventure. Elba is already confirmed to lend his voice to The Jungle Book, as Shere Khan, so it's not too much of a stretch.
While it's not necessary for actors to be in the same room when doing voice work, it is possible depending on the scenes and their characters' interaction. A lot of times with animation, the artists pull from the actors' movements and expressions, which may require the two actors to work off of each other.
Either way, this bit of news is making us all nostalgic for Russell Stringer Bell (Elba) and Det. James "Jimmy" McNulty (West).
Here's a clip of McNulty on the street (for real, he's standing on the street) staking out Stringer. He gets tired of hanging around, and confronts Stringer face-to-face in the clip here.
Ellen DeGeneres, Albert Brooks, and Willem Dafoe will all be returning for the sequel; with Diane Keaton joining the cast. The film will be released in 2016.
What do you think about Idris Elba and Dominic West reuniting? 
See More:
8 Idris Elba Talents You May Not Know
Idris Elba is the New Shere Khan
WATCH: Dominic West and Ruth Wilson in 'The Affair'
Read More
Filed Under: