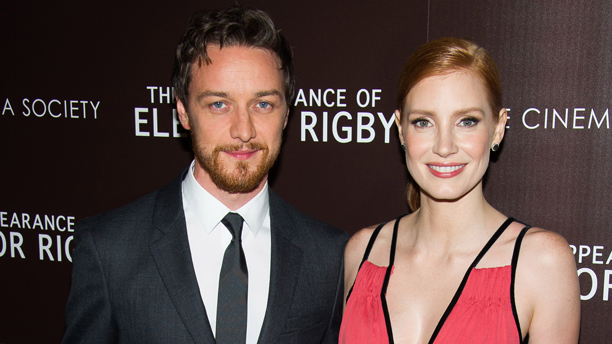 In The Disappearance of Eleanor Rigby, a new New York-set drama out today (September 12), James McAvoy and Jessica Chastain play a married couple, Conor and Eleanor, undeniably drawn to one another but unable to go the distance. "Love should such be a beautiful thing, and yet it isn't always," says McAvoy, commenting on the couple's marriage.
Conor and Eleanor have suffered a traumatic event—and it's not clear whether or not the relationship can survive. To its credit the film, from writer/director Ned Benson, doesn't aim for a feel good ending or try to simplify its protagonists. "They're not like perfect people. These two people, when they look at each other, are reminded of the tragedy that they have suffered—it's about the fallout of that—and about how love doesn't always endure or conquer," says McAvoy.
It's a picture with an unusual genesis. It's an amalgam of two previous movies called Him and Her, both of which launched last year at the Toronto Film Festival. Each film told the story of the relationship from one member of the couple's point of view.
See more:
WATCH: James McAvoy Stars in 'The Disappearance of Eleanor Rigby' Trailer
James McAvoy Exuberantly Wallows in 'Filth', Discusses Role in Scottish TV Interview
WATCH: Michael Fassbender, James McAvoy, and Sirs Ian McKellen and Patrick Stewart in Leicester Square for 'X-Men' U.K. Premiere
Read More
Filed Under: