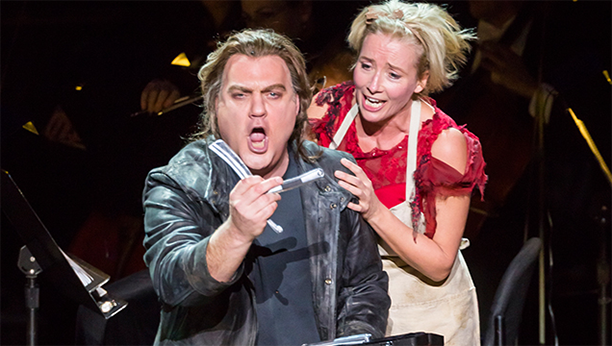 If you had the chance to see Emma Thompson in Sweeney Todd at NYC's Lincoln Center earlier this year, then good on you. If not, you still have a chance, as the live performance will be airing on PBS this week on Friday, September 26.
Thompson steps into the role of Mrs. Lovett, the accomplice (and sometimes lover) to the murderous barber Sweeney Todd, played by Welsh opera singer Bryn Terfel.
The title of the song, "Worst Pies in London," is pretty self-explanatory, but Lovett's lyrics as to why her pies are the worst are dastardly, yet delightful.
You can watch Thompson's performance in the below video, courtesy of Vulture.com:
Terfel had no idea who his female counterpart would be, not until six months before the performance. He tells PBS in this video, "Of course when I heard that news, I had to keep it under my hat for six months. I wasn't allowed to tell anybody. I was champing at the bits to say, 'It's going to be Emma Thompson!'"
You can see what the rest of the cast had to say about their co-star in the behind-the-scenes video here.
It had been 25 years since Thompson's last stage performance in the 1989 production of Look Back in Anger, directed by Dame Judi Dench.
What do you think of Thompson's return to the stage?
See More:
11 British Hosts Who Could Replace David Letterman
WATCH: Emma Thompson Reads 'The Night Before Christmas'
New Yorkers: Emma Thompson is Heading to Your Town
Read More
Filed Under: