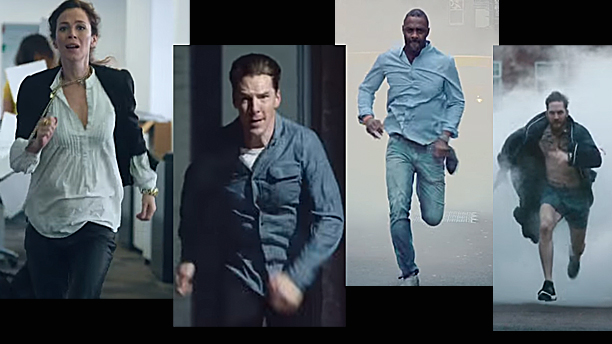 Did you hear about the movie that stars Benedict Cumberbatch AND Tom Hardy AND Idris Elba AND Eddie Redmayne AND Anna Friel AND Steve Coogan AND Sheridan Smith AND Michelle Dockery AND Gillian Anderson? And did you hear that it's less than a minute long? That's a hallmark of high quality drama right there!
Actually, this is more of a public information film, for the campaign Stand Up To Cancer, a partnership between Cancer Research UK and Channel 4. The actors are all seen desperately running towards the camera, intercut with footage of cancer patients, as a way of suggesting that more action is needed, and urgently.
Here's the film:
In support of the campaign, Benedict told the Mail: "I'm standing up to cancer because some of the real life heroes amongst us, scientists and researchers, need funding so they can continue their life saving work.
"Cures are within our grasp and we can't slow down in our fight against this terrible disease. We can be the generation that really makes a difference, who wouldn't want to be part of that?"
Idris added that this has become a family matter since his father died of lung cancer last year: "It affected the whole family, turned our lives upside down and is truly something that we absolutely need to stop in the future.
"What we need to do this is funding, and that's why it's so important for people to do what they can to support Stand Up To Cancer and help beat cancer sooner."
For more information, go to Cancer Research UK.
See more:
Tom Hardy is an Ace Guy, Grants Wish for Cancer-Stricken Young Mother
Sir Ian McKellen: "I've Had Cancer For Six Years"
WATCH: Who are Benedict Cumberbatch's Men of the Year?
Read More
Filed Under: