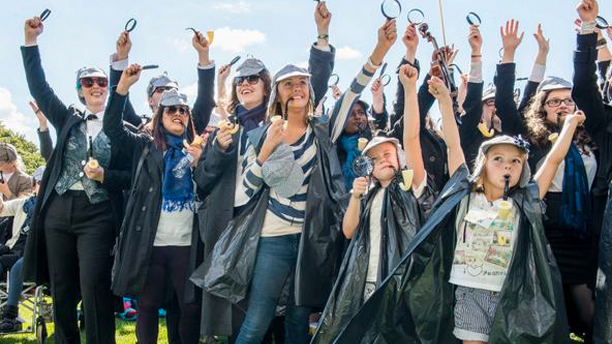 Here's a delightful thing that happened over the weekend. There was an attempt to gather the most Sherlock Holmeses in one place at the same time, in order to break the world record for simultaneous Sherlocks, and raise funds for the Yorkshire Brain Research Centre at St James' Hospital, Leeds.
So on Sunday (August 31), 443 fans—dressed in deer-stalkers and carrying pipes and violins—arrived in nearby Temple Newsam and commenced dancing:
Their record-breaking gatheration of Sherlocks (would the collective noun be a deerstalker? An investigation? A deduction?) did indeed break the record in order to help fund a new research centre to deal with life-limiting brain conditions.
Donations came in from all over the world, including Chile, France, USA, Canada, Japan and Mexico, and the hashtag #sherlockselfie brought in cosplay images from China, Australia, and Baker Street, naturally.
Keep your photos coming! TEXT BRAIN to 88811 to donate £5 #sherlockselfie pic.twitter.com/pfdb0TvVOD

— Sherlock Record (@sherlockrecord) September 1, 2014
We did it! We broke the record!!!! Well done everyone who helped make it happen @sherlockrecord #sherlockselfie pic.twitter.com/MqTxtyafio

— Neil Grainger (@GraingerNeil) August 31, 2014
As a reward for their efforts, they were treated to this message of congratulations from Sherlock's exec producers Sue Vertue and Steven Moffat:
Clair Challenor-Chadwick, appeal director of the Yorkshire Brain Research Centre, told the Yorkshire Evening Post: "Sherlock was the perfect fit for brain research as the brainiest detective of all time was born in Yorkshire. He helped us raise awareness of this much under-funded area to help patients with dementia, epilepsy, Parkinson's and MS."
For more information, visit sherlockworldrecord.com
Note: You may also like to know that a tiny edition of a Sherlock Holmes story written by Arthur Conan Doyle for Queen Mary's dolls house is going to be reprinted in its original size. How Watson Learned The Trick is one of 200 miniaturized books made in 1922, and formed part of a little library alongside works by Thomas Hardy, Rudyard Kipling, Edith Wharton and Sir James Barrie. It will be published by the Royal Collection Trust on October 2.
Read More
Filed Under: