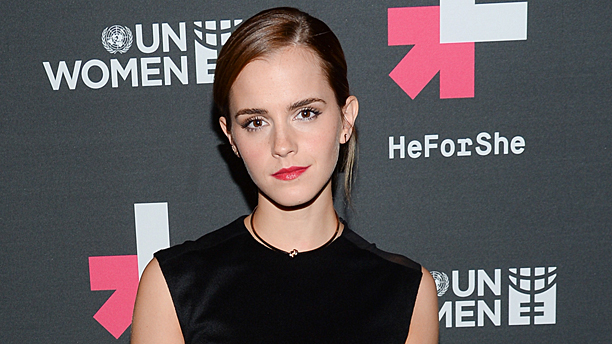 It has been something of a week for Emma Watson. She began with a stirring speech at the United Nations to launch the #HeForShe campaign, asking men to lend their support to gender equality issues for the good of society as a whole.
It was a broadly welcomed speech launching what should be a largely incontestable campaign, and yet it caused those sections of the internet most beloved of the media (the ones where angry voices tend to get the most attention) to react poorly.
Supporters and friends of Emma's have been posting selfies with the #HeForShe hashtag to show solidarity and support, and considering the media storm, some of them are fairly high-profile.
Let's start with this guy:
.@EmWatson you are impeccable & extraordinary. I stand with you. I believe in gender equality. #heforshe pic.twitter.com/xXQsyJ7WfP

— Tom Hiddleston (@twhiddleston) September 24, 2014
Neil Gaiman, come on down:
As a feminist and a human being, I agree with @emwatson (read her speech) @UN_women #heforshe (pic by @amandapalmer) pic.twitter.com/prm1O2LRUg

— Neil Gaiman (@neilhimself) September 23, 2014
Simon Pegg, step forward:
Husband to a wife, father to a daughter, son to a mother. You bet I'm on board, @EmWatson! #heforshe pic.twitter.com/5SyIKIbCZo

— Simon Pegg (@simonpegg) September 23, 2014
And if you thought that sounded like a speech from Gladiator, here's the guy that made it:
— Russell Crowe (@russellcrowe) September 24, 2014
Even the Partially Deceased are getting in on the act, as In The Flesh star Luke Newberry proves:
Brilliantly said @EmWatson #Freedom #HeForShe pic.twitter.com/TtNBRHLhGm

— Luke Newberry (@lukenewberry) September 23, 2014
And let's not forget old schoolfriends (from Hogwarts anyway). Neville Longbottom:
So proud of @EmWatson. From the girl I grew up with to the inspirational woman she is today. I'm with you. #heforshe pic.twitter.com/0j316BBznB

— Matthew Lewis (@Mattdavelewis) September 24, 2014
Best of all, given all the shouting, should you have looked at that last picture with disquiet, given the wife-beater, swimming pool and bro-verloaded facial hair, Matthew issued this gentlemanly retraction with his very next tweet:
And apologies for the garish location and the appalling goatee in that last tweet. I'm working away from home.

— Matthew Lewis (@Mattdavelewis) September 24, 2014
See more:
WATCH: Emma Watson Addresses The U.N. on Feminism
2014 Britannias: Emma Watson, Robert Downey, Jr., Judi Dench Among Honorees
Happy 24th Birthday, Emma Watson: Five of Her Most Startling Roles
It's Official: Benedict Cumberbatch and Emma Watson Own Sexiness
Emma Watson And The Artisan Shoe Cupboard Of Limited Space
Read More
Filed Under: