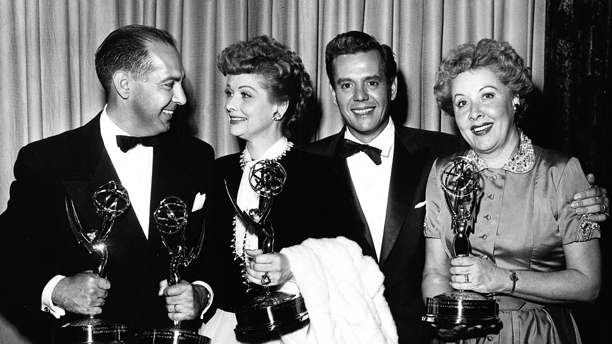 Just as Brits refer to TV classics like Blue Peter, Dad's Army, or Coronation Street, so Americans litter their conversations with names and lines from old TV shows. Although we watched many American TV shows, some classics weren't shown and others you may just have missed. The shows listed below (and many others besides) can give Brits a real sense of what Americans grew up watching and help with the odd trivia question to boot!
Gilligan's Island
References to this 1960s comedy show probably come up more than any other old American TV show. Board games, pub quizzes, you name it, they all expect some knowledge of this hugely popular show about a group of castaways on an uncharted Pacific Island, their desperate attempts at escape or rescue and the characters' ups and downs. It aired regionally in the U.K. first in 1965 and until 1970 in some areas, but was never a hit possibly because of the predictable slapstick humor and canned laughter, but also because the only islands we were likely to get marooned on were the Isle of Dogs if you missed the last bus, or Holy Island if you ignored the tide schedule. Next time you're with a group of Americans over 40, ask them to sing the theme tune though. Many of them will be word perfect.
I Love Lucy
Voted in 2012 as the best TV show of all time (in an ABC news/People magazine poll), this sitcom first ran in the 1950s but has been in syndication worldwide ever since. Starring real life couple Lucille Ball and Desi Arnaz as Ricky and Lucy Ricardo, the show was a vehicle for Ball's comedic genius and was the first sitcom to be filmed before a live audience. One of the most famous episodes, "Job Switching" contains the scene where Lucy and friend Ethel find jobs in a chocolate factory and struggle to keep up with the conveyor belt. Brits loved Lucy almost as much as Americans did because of her imperfections—clumsiness and the ability to mess up in every episode. The frustration that Lucy felt as bored housewife also resonated with at least half of her viewers.
Leave it to Beaver
Although this comedy show ran from 1957-1963, people too young to have watched the original series often refer to it, such is its iconic status. LITB was a sitcom focusing on a child, Theodore "Beaver" Cleaver, his brother Wally and his parents June and Ward. Situated in the fictional town of Mayfield, it depicted the picket-fenced, white, middle class America of that time. Shows in the same ilk included My Three Sons, The Ozzie and Harriet Show, The Andy Griffith Show and The Donna Reed Show. LITB doesn't seem to have aired in the U.K.; the perfect world depicted would have clashed heavily with the kitchen sink dramas then at their height in the U.K.
Little House on the Prairie
LHOTP was shown on TV in the U.K. in the 1970s. Based on the popular Little House books by Laura Ingalls Wilder, this drama series showed pioneer life in the 1870s and 1880s in Minnesota. The hunky Charles (Pa) Ingalls, his wife Caroline and their daughters faced everything from illness and poverty to drunkenness and mean-spirited neighbors in the weekly episodes. LHOTP can still be seen in re-runs and is available on DVD. It was hugely successful in the U.K., perhaps because we had nothing like it in our history. It gave us a glimpse of what our American cousins had had to endure in the not-too-distant past.
https://www.youtube.com/watch?v=pKVvZhTQl0k
Gunsmoke
One of America's longest running prime-time, live action drama series, Gunsmoke centered around Marshall Matt Dillon as he tried to maintain control of Dodge City, Kansas. Running from 1955-75, the show was the number one show from 1957-61; a gritty serialized western, it aired in the U.K. first as Gun Law, then as Gunsmoke. It inspired similar shows like Bonanza and The Virginian, all of which depicted the rugged, often difficult life of America's West. Obviously, Brits have never had a cowboy history, unless you count Benny Hill's "Ernie – The Fastest Milkman in the West", which astonishingly, reached the top of the charts in 1971.
Dragnet
Airing in the 1950s, with a brief revival in the late 1960s, this was one of the first of many cop shows, featuring Sargent Joe Webb and the LAPD. Famously introduced with the words "The story you are about to see is true. The names have been changed to protect the innocent," Dragnet covered both the mundane and the more dramatic aspects of police work, with a deadpan central character and the immortal phrase "Just the facts, ma'am," which apparently he never actually said. Meanwhile, in the U.K. viewers were enjoying local bobbie Dixon of Dock Green, so Dragnet was flashy and exciting. However we didn't have to wait long until the grittier Z Cars (pronounced "zed cars") began in 1962. And talking of theme tunes, take a trip down memory lane with this one.
Obviously, this list barely scratches the surface of beloved old American TV shows. Recommendations are welcome!
Speaking of TV, join @MindTheGap_BBCA on Twitter tomorrow for a discussion of the fall TV premiere season. What have you been watching? How to Get Away with MurderGotham? Doctor Who? Tweet your suggestions and thoughts using hashtag #MindTheChat for a chance to win a Torchwood: The Complete UK Original Series box set courtesy of BBC Shop.
Read More
Filed Under: