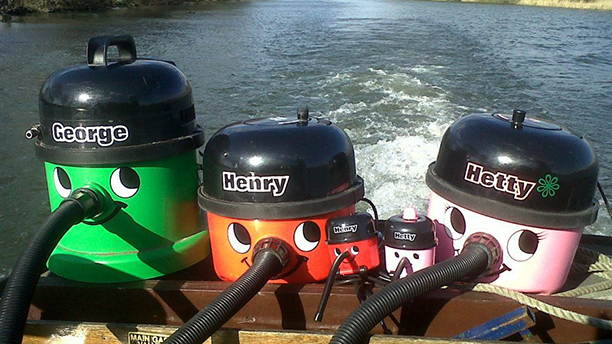 A British dad was assigned the task of vacuuming the house, but instead, he decided to photograph the Henry hoover, giving life to an internet sensation named Baby Henry.
Danny Walker, 28, from Abingdon, Oxfordshire, made the shocking statement that … wait for it … cleaning is boring.
He explained his statement to the Express U.K. saying, "I just felt like having a little fun, and a Henry is a lovable character, which lots of people have in their homes."
Walker innocently enough started posting pictures of Henry in everyday situations on his personal Facebook page, but due to popular demand, a Facebook page dedicated solely to the Henry family was required.
Walker features the entire Henry family, but Baby Henry appears to be the standout. While Baby Henry might get a bit more attention, the entire Henry clan is feeling the love, even getting fan mail.
Here are some of our favorite snaps from the Henry adventures:
The Henry's take a vacation on a barge.

Will Danny Walker ever hoover the house?
See More:
Cadbury Vending Machine Uses Facebook Details to Select Chocolates
WATCH: British Woman Vows to Wear a Costume Every Day for a Year
Lego Pieces Washing Ashore in Cornwall, England
Read More
Filed Under: