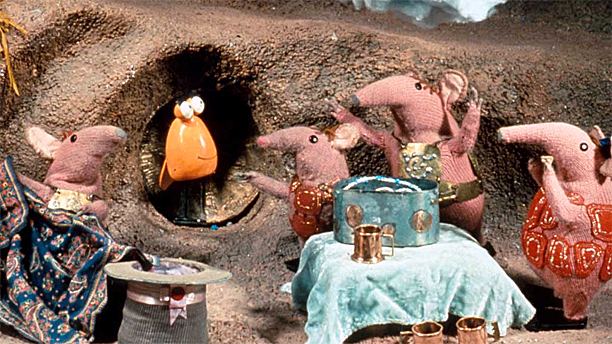 If you catch a British person of a certain age and mention The Clangers, chances are the eyes will glaze over slightly, a smile with play across their face and almost without realizing it, they'll start making friendly bird noises, as if a swanee whistle was attempting to start a conversation with a small child.
There's something entirely magical about Oliver Postgate and Peter Firmin's stop-motion animations, of which The Clangers is one of the best examples. All the component ingredients in making their films were created by hand, from the woolen costumes of Peter's Clangers themselves to the button Oliver made to expose a frame of film as he worked. It's a homegrown affair and this comes across in both the sparkling musical score and most notably in Oliver's voice. He was a singularly kind and expressive form of storyteller.
Here's an original episode, featuring Oliver's particular tones:
Which makes today's news, that Monty Python star Michael Palin is set to take Oliver's role as the narrator in a new series of the show, all the more interesting. After all, he also has a kindly and inclusive voice, and as for expressive… did we mention Monty Python?
Michael told BBC News that he is thrilled to be involved in such an iconic British show: "The world of The Clangers is delightful and irresistible. It's a real pleasure and a great privilege to be a part of its return to television."
The new series will be executive produced by both Peter Firmin and Oliver's son Daniel Postgate, who admitted he is thrilled with the way the new version of his father's work is panning out: "Michael Palin was my first and favourite choice, so of course I'm absolutely delighted.
"Among other things, he's been a warm and charming guide for us all in his extensive travels around this world, so it seems wonderfully appropriate that he should pack his bags once more, go off across the starry expanse of space and do the same for the world of The Clangers."
Peter added: "As an old stick-in-the-mud, I don't often change my mind and from the very beginning I wished and hoped that Michael Palin would agree to be our narrator. Once, in a blue moon, wishes come true. This is once in a blue moon. I hope Michael enjoys his voyage to our little Blue Planet."
And best of all, the new version is being co-produced by the pre-school network Sprout, so it'll be available to a new generation of U.S. fans next year.
See more:
'Monty Python' Live Show Under Investigation for… Lack of Swearing?
Now The Clangers Are Making A Comeback
Five Great British Children's Filmmakers
Michael Palin And The Story of 'The Wipers Times'
Read More
Filed Under: