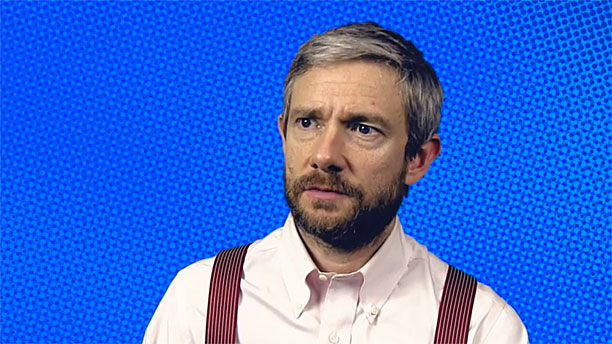 One of the most fun stories to come out of Martin Freeman's three-month run as Richard III in London's Trafalgar Studios concerns Sherlock fans, particularly the younger ones, squealing their approval every time he walks on the stage. It's as if he's the special guest star in an American sitcom, the Bruce Willis in Friends, or Stan Lee in The Big Bang Theory.
Sadly, as appealing an idea as this is, it seems not to have been true. Martin, speaking at a press conference yesterday to hand over the theater to the next production East Is East, says there may have been a little jolt of excitement at first, but it died down almost immediately.
He said: "I would love to be clapped every time I came out but, alas, no. At the first preview on my first exit there was a smattering of applause from about 15 people and that was it. From that grew this idea that it was like the Fonz coming on, which frankly wasn't true.
"I think people put two and two together – the fact there are a lot of female fans knocking around, so if they're in the audience they must be clapping.
"There were a lot of first-time kids who came here and people maybe assumed that they would behave in a certain way but I have to say with very few exceptions, the under-25s who have been in have been exemplary
"Yes, there has been the odd phone going off but that's as much a 56-year-old as a 25-year-old."
Martin also confessed that taking the lead role in such a long and involved play has been much more physically demanding than he expected.
Asked whether the role of Richard is one he'd consider taking up again later in his career, he said: "I honestly don't think that I could. Since I've been doing this I've been thinking about people like Ian McKellen who do Shakespearean roles when they're a lot older and I have no idea how they do it.
"I don't know if it's to do with being a dad and having stuff to do in the day then doing this in the evening, but I can't see myself doing this in 20 years. It's doing me in now."
"We are all knackered. I'm quite glad it's not going on for another three months, I have to be honest. It's an enjoyable play to do and I loved doing it but this doesn't feel like a short run."
And with that, he waggled his thumbs at the assorted reporters, gave a brief "ayyy!" and was gone.*
*Note: no, he did not.
See more:
Why Martin Freeman Pretended His Wallet was Stolen at His 'Sherlock' Audition
WATCH: Martin Freeman on the Wit and Humor in Richard III
WATCH: Martin Freeman and the Cast of 'Fargo' Explain How the Show Differs from the Movie
'Sherlock' Co-Creator Mark Gatiss Interviews Martin Freeman
Read More