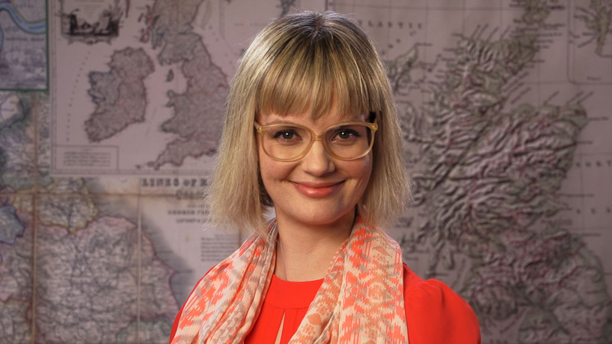 Anglophenia YouTube channel host Siobhan Thompson moved from Southwest England to New York City an aspiring archeologist and instead found herself performing comedy at United Citizens Brigade.
UCB—whose alumni include writers of 30 Rock, Parks and Recreation, and The Colbert Report and Abbi Jacobson and Ilana Glazer of Broad City—is an improvisational and sketch training center founded by Matt Besser, Amy Poehler, Ian Roberts and Matt Walsh. Siobhan is currently a writer/actor on Maude Night's Alamo team at UCB and just tied up friend Matthew Starr's web-series Snarky Sidekick.
We had the pleasure of sitting down with her to get a peek into her background:
Q: First, where are you from?
A: I'm from the Southwest. So yeah, Jane Austen, a lot of that stuff. Roman stuff. I grew up in a tiny village outside of Bath, but Bath is [the] closest [city].
Q: Did you like it?
A: Yes and no. It's definitely sort of the idyllic English childhood, but growing up in the countryside is pretty boring and Bath is pretty conservative. Not in the same way Americans are conservative, but traditional, I guess. It was a very safe, easy childhood in many ways. But it's a very beautiful place to grow up. I mean, the town I grew up in looks like something out of Lord of the Rings. It's very touristy, which is cool because it gives it a sort of big city vibe, but there's a lot of history as well. We went to the Roman baths all the time on school trips, and Stonehenge is just around the corner. There's a lot of cool history there. I went to the same school as Mary Berry from the Great British Bake Off.
Q: So, are you a big Jane Austen fan?
A: Yes! I read all her books when I was about 11 or 12. They're great. They're all great, but Pride and Prejudice is my favorite. Elizabeth Bennett is so great.
Q: What other British lit are you interested in?
A: I love all British literature! I don't really like modern literary fiction. I love the Brontës. I read a lot of plays. I love George Bernard Shaw. Contemporary playwrights are great.
Q: Can you let everybody know how your name is properly pronounced?
A: Yes, well, that's a little complicated. Because the way I would pronounce it at home would be "Shi-vawn." But Americans don't use the "aw" sound in their speech, so here I would say "Shi-vaun." That back of the throat "aw" sound is very English. My name is unusual and the spelling is confusing enough, so I wouldn't be at a Starbucks and be like "How dare you!" if they messed it up.
Q: Where did you go to school and what did you study?
A: I went to the University of Bristol.
Q: So, like, Skins?
A: Skins was shot in Bristol when I was there! So you would see them in the streets shooting, and I had some friends who were extras. I studied archeology—I have a B.A. in archeology. I actually went to study chemistry but realized it wasn't what I wanted to do. I was going to take one class in archeology, and I went to the department and everyone was so nice and warm, like a family. There were 24 people in my class, so it was just like being back in school, just a small group of people. And it was great because I got to study everything. Archeology is so broad. One day you could be doing lab work studying different types of pollen, and the next you could be studying the nature of the material world. I worked as an archeologist for a bit before I moved out here. What I ended up studying most in school was classical, especially classical Greek. I wrote my dissertation on the Seven Wonders of the World.
Q: Can you name the 7 Wonders for us?
A: Hanging Gardens of Babylon, the Lighthouse at Alexandria, the Colossus of Rhodes, the Pyramids of Giza, the Statue of Zeus at Olympia, the Mausoleum at Halicarnassus, and the Temple of Artemis at Ephesus.
Q: So when did you realize you were funny?
A: It took me a long to be comfortable with it. I thought I wasn't funny for a long time; I was just very strange. So if I was funny, I wasn't popular enough for people to be okay with me being funny. And for a long time I would do plays and get cast as the funny person, and I would get so annoyed with it because I just wanted to play the main role. Now I have no desire to play the main role. As a girl, it's very boring. You simper. I don't want to do "the girl that the guy wins." I have no interest in being a prize.
My family is very funny, though. We do a lot of bits as a family, which I didn't realize was abnormal growing up. My family is so funny! My mom and I will do voices to each other on the phone; we'll have whole conversations as different characters. I've always loved comedy and watched a lot, very obsessively, growing up. The sketch comedy I grew up with from the U.K. was really great and boundary breaking and they did some really weird, cool interesting stuff. I also watched Monty Python when I was pretty young.
Q: What were you like as a kid?
A: I was much better with adults than I was with other children, I didn't have the best time in school. I was bullied pretty badly. But I listened a lot. I paid a lot of attention; I spent most of the ages of 8 and 16 just living in books. I was never the class clown, but there were times when I would mess with teachers a bit.
Siobhan's Anglophenia episode "If Shakespearean Insults Were Used Today" has premiered. To see Siobhan perform, check out UCB's schedule for more info on the Maude Night's Alamo Team. And come back soon for the next part of our interview with her.
See more:
WATCH: Siobhan Performing 17 British Accents
Read More
Filed Under: