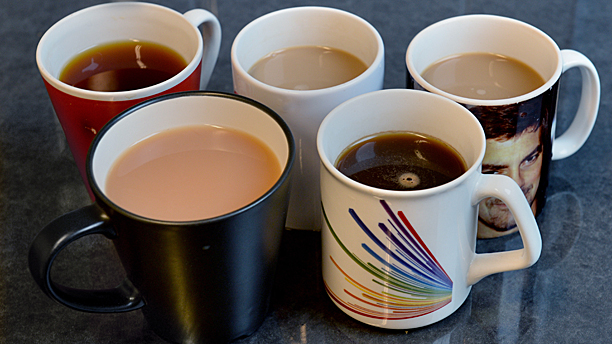 Consider this a dunkable companion to your mid-morning break. This story involves a relatively new innovation into British lives, one that will seem laughably quaint to anyone that is used to jacking up their sleep-deprived selves into semi-automated form using a large and unhealthy jolt of Joe. So, let's begin with a little context.
Coffee itself is not new to the residents of the British Isles. While there's a lot of fuss made about tea and the rituals around the drinking of it, it's not as if you can't get coffee—instant, ground or beans—in every supermarket in the land, and people do not think you odd if you claim to prefer your caffeine dark and bitter, rather than light and leafy. British rock 'n' roll owes its existence to late night coffee bars in Soho, where kids could gather around a sole cappuccino and check out the hot rockin' sounds of Tommy Steele or Cliff Richard. It may not be the breakfast cliché it is in other countries, but coffee has been part of the British beverage menu for generations.
However, as ubiquitous as it is, coffee has altered the way British high streets look in the past decade in a quite remarkable way. I live in a small town in the South West of Britain, and I moved here about 12 years ago. Having lived in London, I was well used to being able to access all manner of coffee-related beverages from a variety of locations at any time. In my new town, there was just one place to go to get lattes and whatnot; a Costa Coffee that still operates from the first floor (i.e. the one above the ground floor) of a bookshop. That's not to say you couldn't get a cup of coffee anywhere else—as an accompaniment to a fry-up, perhaps, or after a big meal—it's just none of those other places were coffee places. They sold the drink, but not the aura of luxury, or the suggestion that coffee is, or should be, a drink that has gradations of quality. By emphasizing beans and roasts, like connoisseurs would, coffee places suggest that what they sell is good coffee, and it is this distinction that had hitherto been largely missing from the British high street. Fine wine, yes. Fine coffee, not so much.
Since then, there's been a global financial crisis, and high street stores have struggled to meet the challenge set by internet shopping. As various chain stores and boutiques have gone, they have almost all been replaced by coffee shops, and not just Starbucks and Caffe Nero either. There are independent coffee places with chalkboard menus and delicatessens with cappuccino machines left and right. Good coffee has become a thing, and because people are now becoming used to being a more refined and magical dining experience while stopping for a break, this has allowed an entirely new kind of place to sneak in and open up, the cupcake place.
Somehow the cupcake place exists in a space that is not the same space as a café or a restaurant or even a coffee place. The cupcake place is more like an art gallery in which you are allowed to eat the exhibits. Immaculately sculpted creations are piled high on cake stands for the excitement and edification of passing visitors. Their presence defies anyone to try and work out why cupcakes are now back, and back with such force that they require their own retail environment.
I mean blueberry muffins don't demand their own shops, do they? A muffin, essentially a cupcake without a hat on, knows that its primary role is to add a rush of sugar to a mid-morning, so that glazed call center operatives can get through to lunchtime without faceplanting on their own keypads after a late night shouting out Adele songs in a karaoke bar. The more genteel slice of cake may once have had its own traditional place in tea shops and the fabled Lyons Corner House, but it has had to make room on the sweet trolley for the arrival of the millionaire's shortbread and the rocky road square.
Cupcakes, by contrast, arrived in the middle of a vogue for vintage dresses, hair-slides and improbable moustaches as if back from a long period of exile, and immediately began treating their own customers with immaculate disdain: "I'm sorry," their paper-cased backsides chirrup, "if you want to eat me, and I KNOW you want to eat me, you're going to have to work for it. Get past the snowdrift of frosting without wearing it as an Adam Ant stripe across your fizzog, try not to cause an avalanche of sprinkles, Smarties or chocolate buttons that will stick to your front like edible buckshot. Finish me, right the way down to my paper bum, even though I get less and less interesting, the further down you go. GO ON, EAT ME; I DARE YOU."
And being a nation that responds rather well to that kind of provocative reverse psychology, the Brits immediately began lapping them up—quite literally, if the frosting is really thick—and creating hugely-popular TV shows like The Great British Bake-Off, in which contestants make all manner of cakes, all of which look just as appetizing as the cupcake, and none of which are anywhere near as conceited.
See also:
Junk Food Day: 5 Salty British Snacks Every American Should Try
Mint Julep Day: Five Foods the British Only Consume Once a Year
WATCH: Think British Food is Boring? 9 Dishes That Will Change Your Mind
5 British Holiday Foods Every American Should Try
Read More
Filed Under: