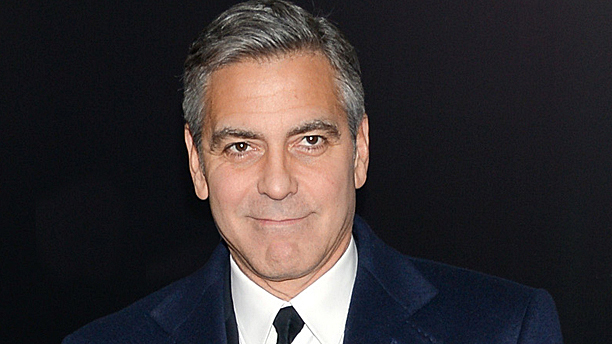 Before we get any further it's important to state that George Clooney really IS going to be in Downton Abbey, with the cast of Downton Abbey, acting a part, playing a role, and everything. That report we ran about him filming in Highclere Castle, home of Downton Abbey? Yeah that was because he's going to be in Downton Abbey. There's no trick.
However there is a catch, and that is that he's not going to be in the proper series of Downton Abbey as you may find it on PBS, he'll be appearing in a specially-filmed sketch for an ITV telethon. But, and this is the really good bit, he gets to place a kiss on the person of the Dowager Countess of Grantham, as played by Dame Maggie Smith.
Laura Carmichael, who plays Lady Edith, recently appeared on ITV's mid-morning chat show This Morning, and she explained that there's a definite frisson between the two of them.
She explained: "There is a very brilliant moment with Maggie and George – and I don't know if I want to give away any more than that really – but Maggie does a very comedy fall.
"George plants a kiss and Maggie ends up on the floor, it's wonderful. He was hilarious."
The sketch is part of ITV's Text Santa initiative with beneficiaries including: Alzheimer's Society,Guide Dogs, Marie Cure Cancer Care, Teenage Cancer Trust, Together for Short Lives, and WellChild.
Laura also said that the George's arrival did cause more than a ripple of excitement, even among such a stellar cast:
"We were filming away and then heard, 'He's here, he's here, he's arrived'. But he was wonderful and so brilliant and I'm very excited for everyone to see it."
And don't worry, it's a certainty that this will end up on YouTube and when it does, we'll pop it somewhere prominent.
See more:
WATCH: Scandal and Fire in New 'Downton Abbey' Trailer
'Downton Abbey' Cast React Classily to 'Water-gate'
Karen Gillan: "'Downton Abbey' Plus 'Harry Potter' Doesn't Make for a Good Aberdeen Accent"
Will 'Downton Abbey' Ever Achieve Simultaneous Transmission in the U.S.?
Read More
Filed Under: