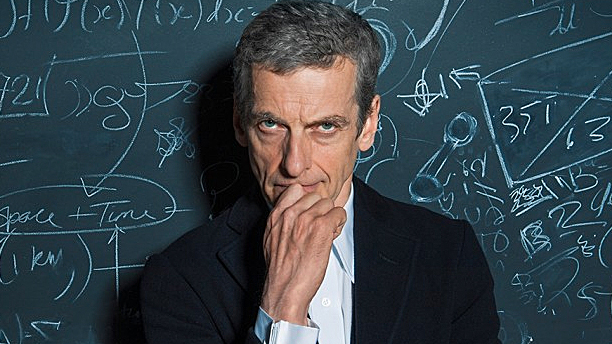 It's OK, it's safe to come out from behind the sofa now.
In this week's Doctor Who episode "Listen," the Doctor and Clara have taken quite a trip; to the end of time, to the beginning of the rest of Clara's life (if this date with Danny Pink is as significant as it appears), and (spoilers!) to the barn where the War Doctor took the Moment, which seems to have been significant in his past life.
Here's our recap of the entire affair, and given that it was the story of the Doctor trying to work out the source of his primal fear of the monsters under the bed, here's our list of five other occasions in which the Doctor has shown himself to be scared.
Reactions to "Listen" have been very positive indeed. Radio Times called it "classy" and pinpointing the themes of "fear and loneliness," while SFX noted that it is "a darker tale for a darker Doctor" and the Guardian simply said it is "phenomenally good."
Here's the Doctor Who Extra, for more information on how they did it:
And of course there's a magnificent gallery of images from Season 8, including a few from the next episode, right here.
And here's Samuel Anderson—both Danny Pink and Orson Pink—discussing his early impressions of life in Doctor Who:
There, now we've shaken off the collywobbles, here's what else is going on in space and time this week:
On Saturday (September 20) the Doctor and Clara have to pull off a bank job in "Time Heist."
Here's the next time trailer:
The full synopsis is as follows:
The Doctor turns bank robber when he is given a task he cannot refuse – to steal from the most dangerous bank in the cosmos.

With the help of a beautiful shape-shifter and cyber-augmented gamer, the Doctor and Clara must fight their way past deadly security and come face to face with the fearsome Teller: a creature of terrifying power that can detect guilt.
• And while we're looking forward… you may like to know that the Doctor Who Christmas Special has begun filming in Cardiff.
• Mark Gatiss answers quick-fire questions and talks to Vulture about "Robot of Sherwood" and writing for Doctor Who in general, saying: "Russell T Davies essentially invented the celebrity historical as a new Doctor Who form. In the original series, every now and then there'd be an encounter — Marco Polo or Napoleon — but the idea of this is very much in the DNA of the new series. But as you say, Robin Hood isn't real, so this episode has the form of the celebrity historical, but it's with a made-up character. That was really the engine of the whole idea."
• Radio Times's Stuart Manning is at it again with this week's poster for "Listen," one for which he drew inspiration from Rosemary's Baby and Halloween. Manning calls the it "an interesting episode to try and sum up visually," stating that he "went with a slightly abstract, less literal image – somewhere between a 70s horror film and an 80s video nasty. Imagine it on VHS after dark with lots of drop-out."
• Sixth Doctor Colin Baker paid tribute to the Who writer Jane Baker, who passed away last week. Alongside her husband, Phillip 'Pip' Baker, she wrote "The Mark of the Rani," "Terror of the Vervoids," "The Ultimate Foe" and "Time and the Rani."
So very very sad to learn that Jane Baker of Pip and Jane fame – Doctor Who writers from my era – has died. My thoughts are with Pip.

— Colin Baker (@SawbonesHex) September 9, 2014
• Who wants to meet the man who officially has the biggest collection of Doctor Who memorabilia in the world?
• The 12 Doctors, 12 Stories series has been redesigned with beautifully minimalist book covers.
• It's official: James Corden (Craig Owens from "The Lodger" and "Closing Time") is set to replace Craig Ferguson as host of CBS' Late Late Show, ensuring the chatfest remains in Whovian hands. Here are a few other reasons why Corden's hiring is a great idea.
• Alex Kingston has taken the Ice Bucket Challenge, accepting her nomination from her fans, the Kinglets. And her reaction is…well…insert River Song catchphrase, sweeties:
• Let's end with a moment of eerie magic. This is a version of "Clara's Theme"—as composed by Murray Gold—that has been reworked by YouTuber Joy Beans for a make-your-own musical box that can read strips of musical information.
TTFN!
Read More
Filed Under: