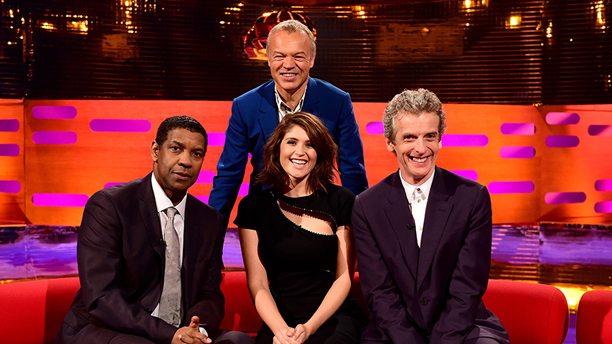 It is now almost a rite of passage for Doctor Who cast members to check in with Graham Norton, with everyone from the Doctors themselves to their companions swinging by for a chat with the beloved talk show host.
In honor of Peter Capaldi's debut on The Graham Norton Show for the 16th season premiere on BBC AMERICA Saturday, October 4, here are other Who actors and actresses who have made joined Graham for a few wisecracks and drinks.
1. David Tennant
Tennant was first invited to sit on the famed Graham Norton red couch in 2007 when the show was just getting off the ground, and has thus far been invited back three times.
In 2009, he discussed his departure and successfully remained coy as Norton tried to tease spoilers from him regarding the new Doctor in town, Matt Smith:
In 2013, we came full circle when both Doctors were called in to answer to a few Whovian questions:
2. Matt Smith
Smith first dropped by for a visit when he was just stepping into his now-iconic bow tie and tweed blazer, and revealed some fan mail details:
As he became a more seasoned veteran in the Whoniverse, he came back to show off his quite impressive football skills:
And again to receive a Christmas kiss from an audience member at Dustin Hoffman's urging:
3. Billie Piper
While promoting her show, Secret Diary of a Call Girl, Piper stopped by to discuss breastfeeding habits with Toni Collette and Shappi Khorsandi. Warning: video contains some NSFW language.
In early 2013, Piper addressed the rumors of her return for the 50th Anniversary of Doctor Who—though she may have spoken a little too soon. Never say never, Billie:
4. Catherine Tate
Although her portrayal of Donna Noble is a fan favorite, Tate tells Norton that she wasn't much of a fan of the show herself before being cast in the role:
But she IS a fan of the Bard, as she demonstrates in this clip from her appearance with Tennant. Watch Norton quiz them on classic Shakespearean lines (warning: video contains some NSFW language):
5. Karen Gillan
In 2010, a fresh-faced Gillan brought Amelia Pond to life and told Norton all about how she got the role:
When she visited again, it was to confirm her departure from the show, and to shed some light on the extent of Whovian enthusiasm:
6. Alex Kingston
When she isn't being River "hell in high heels" Song, Kingston is taking to Norton's show to have a pow-wow with Reese Witherspoon and Reginald D. Hunter about the differences between Christmas in America and Christmas in Britain:
7. James Corden
Corden, who played two-time companion Craig Owens, is always a welcome presence on Graham Norton, and with his comedic chops, it's no wonder why. Perhaps he asked Norton for advice on hosting his own talk show?
Corden shows off his musical inclinations in an interview revealing his past boybands:
And holds his own while improvising song lyrics with Katy Perry and Sir Paul McCartney:
Peter Capaldi's Graham Norton appearance alongside Denzel Washington and Gemma Arterton will air on BBC AMERICA Saturday, October 4 at 11 pm/10c. Here's a clip of Peter telling a sweet story about an interaction with a fan before he was announced as the Doctor:
See more:
James Corden's 'One Chance' Premiering on Yahoo Screen
Matt Smith Lands Role in 'Pride and Prejudice and Zombies'
David Tennant on 'Gracepoint': 'The Roles Felt Very Different in My Bones'
Read More
Filed Under: