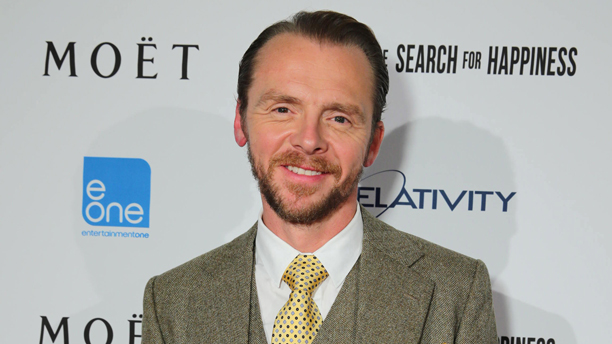 Today (September 19) is the official opening of director Peter Chelsom's Hector and the Search for Happiness, starring Simon Pegg (Shaun of the Dead, Hot Fuzz) and Rosamund Pike (Pride and Prejudice, The World's End). Pegg plays a trapped-in-routine psychiatrist who, in discovering his own unhappiness, travels the globe in search of what really gives people joy.
Pegg has certainly found happiness, with a wife, daughter, two dogs, and a job he adores. He's also made some pretty  cool friends along the way, and whether it be on Twitter or Facebook (he does not have Instagram), Pegg takes one mean selfie.
From Pegg's Twitter:
With celebrity chef Rachael Ray.
Look out for me hanging out with the lovely @rachaelray next week, talking about Hector & the Search for Happiness. pic.twitter.com/AGNZIoCzAz

— Pegg News (@simonpegg) September 17, 2014
And this one, with NBC co-anchor and weather presenter, Al Roker.
@simonpegg on @TODAYshow talking #hectorandthesearchforhappiness pic.twitter.com/ZU2ahigmCf

— Al Roker (@alroker) September 9, 2014
… And British comedian and old friend Marilla Wex.
Mates for 25 years – me and @simonpegg at the Hector premiere after-party. pic.twitter.com/69GbsETqFc

— Marilla Wex (@MarillaWex) September 8, 2014
… AND Benedict Cumberbatch!
#BenedictCumberbatch and Simon Pegg! pic.twitter.com/QLhxvrP1jw

— BENELOCK (@nicole5castle) August 27, 2014
Here's Pegg with singers Bryan Adams, Anastacia Lyn Newkirk, and Ricky Ross (of Steely Dan cover band Deacon Blues) on BBC Radio 2.
Bryan Adams, Anastasia, Ricky Ross and me. Getting down on the @BBCRadio2 breakfast show. pic.twitter.com/GGrVIyLUlw

— Pegg News (@simonpegg) August 15, 2014
Road-tripping with Tom Cruise!
It's 106 miles to Chicago, we got a full tank of gas, half a pack of cigarettes, it's dark & we're wearing sunglasses pic.twitter.com/ssVQsEMo71

— Pegg News (@simonpegg) September 2, 2014
An attempted selfie with Pike.
#roswatch pic.twitter.com/52B5LY5FZh

— Pegg News (@simonpegg) August 4, 2014
And finally, a photo with friend and personal assistant, Claire Finbow.
Behind every good man is a Claire Finbow. Early morning press tour selfie. @HectorMovie, Wake up LA! pic.twitter.com/jWdRORfPBT

— Pegg News (@simonpegg) July 31, 2014
And what social media is complete without some selfies alone?
Simon Pegg's selfie appreciation tweet. pic.twitter.com/p10oBTLybH

— punk padfoot (@siriuslyremus) August 2, 2014
I'm about 3 seats to the left! RT @simonpegg: Super selfie at #TIFF14 screening of @HectorMovieCA #capturehappiness pic.twitter.com/s1eaBJkVfo

— asylum 01 (@asylum01) September 9, 2014
BONUS! Shelfie:
#shelfie pic.twitter.com/pESYvdFx0I

— Pegg News (@simonpegg) August 10, 2014
Will you be seeing Hector?
See more:
WATCH: David Tennant, Rosamund Pike in 'What We Did On Our Holiday' Teaser
Simon Pegg on Edgar Wright's Departure from Marvel's 'Ant-Man'
Simon Pegg and Edgar Wright Haven't Stopped Collaborating Yet
Read More
Filed Under: