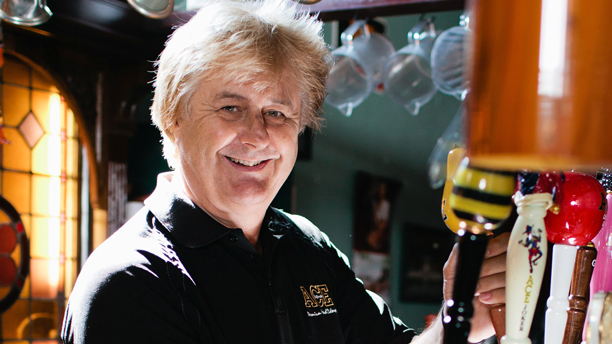 Almost every Brit will have a strong opinion about American beers, but what about cider? It perhaps brings to mind lazy, summer days or crazy student nights, but for many years in the U.S., British cider lovers found it hard to get even a taste of the fermented apple juice they loved.
Things have changed, though, and in today's climate of microbrews, craft brews and artisan beverages, people are willing to broaden their taste buds like never before, and cider is making a comeback.
For Jeffrey House, the supremo at California Cider Company in Sebastopol in Northern California, that "comeback" has been happening for a few years now, and a recent article in the Los Angeles Times cited him as being responsible for helping head a national renaissance.
House's background goes way back with the fizzy stuff; he moved to the U.S. in 1977 at 26, and says he "got his Green Card importing British beers like Fullers to ex-pat hangouts like Ye Olde King's Head in Santa Monica." Cider imports followed, and then, House says, "I was one of the first to start exporting Sonoma wines from California back to the U.K."
Cider, however, found few takers, which was strange, because back in colonial days it was the drink of choice. (Apparently, John Adams had a mug every morning, and there was even a watery kid version called "ciderkin.") Prohibition's largely unpopular reign from 1920 until 1933 didn't help things, and cider never recovered from that forced vacation. Easier-to-brew beer took over the top spot, though they both had roughly the same alcohol content.
Attempting to explain the more contemporary transatlantic attitudes, House notes "Brits have a long history of cider since the category took off in the 1970s, and they usually go for a drier taste," adding "as for Americans, they're just starting to get educated about cider over the last twenty years or so, so the markets are 25 years apart. They tend to like a slightly sweeter more fruity cider, though Brits drink more on average!"
House's dedication to the world of refreshing cold beverages is more than your average connoisseur. For a start, his California Cider Company brewery (founded in 1993) is a family affair, with his three sons Jason, Simon and Jeremy all working for it in various capacities. Jeffrey even got married in Las Vegas while attending the National Beer Wholesalers Convention. "Though we did go back to the UK for a Blessing," he says.
Originally from Camberley in Surrey and christened Geoffrey (but preferring Jeffrey from a young age), he's been married to the Scottish-born Angela for nearly 30 years now. She is from Beaconsfield, Buckinghamshire, and has her own unusual story, though it's not usually one she tells people, House jokes.
Star Wars fans prepare to bowl over: It turns out that Angela played Brea Tonnika, "one of the intergalactic hookers in the notable Cantina scene, where Luke Skywalker met Han Solo in the first movie," he says proudly. "She doesn't think it's a big deal. She didn't get paid very much for it, and she had to write to George Lucas to get one of the action figures they made of her—but everyone else thinks it's great, especially with the new movies."
They live happily with their two shelties, Lad and Lassie, overlooking acres of vineyards in Windsor in Northern California. "It reminds me of the U.K.," he says. "It has 265 days of sunshine a year. There are many artists and musicians in the area, great food, producers of wine, beer, cheese and, of course, cider. We're also close to the Sonoma Coast and the majestic Redwoods."
At the business end of things, the brewery is based in nearby Sebastopol. House took a couple of years getting the all-natural Ace Cider ready for launch. He says he spends his average day "talking to our distributors and our sales representatives, planning production and motivating my staff of thirty people. That means I spend a lot of time on the iPhone and computer." However, outside his office door is something lots of people would envy: a pub called the Ace-in-the-Hole.
"It's one of the first cider-specific pubs in the U.S. in centuries," House explains, and it showcases their ciders as well as a couple of wines, including one from his own vineyard, and specially-selected beers. "I started my career in beer and still like a pint or two of North Coast's Scrimshaw Lager, and the pub attracts a lot of Brits and Anglophiles." Tours of the brewery are possible, but the bar (really a tap room with a bar brought over from Cornwall) is only open on Friday afternoons. He admits, "When I get time to myself I like to sit here and listen to music."
He also likes to read and garden, but free time has been less easy to come by of late. Ace Cider is No. 2 in the U.S. in this specialty field and pumped out around 1 million gallons of hard cider last year in a market worth some $600 million nationally. It's no wonder even the massive breweries are coming out with ciders.
Even with the upwards trend, the House family return to the U.K. every year or so. "My wife and I both have relatives and friends there," says House, "and my Dad is 93 and still lives in his own house on his own in Camberley. I went to see him and my sister earlier this year."
That said, he admits to somewhat of a love-hate relationship with the U.K. "I like the sense of freedom and well-being and positive attitudes [in the U.S.]," he explains, then adds that he "misses the sense of humor, the manners and the soccer. We watch a lot of PBS and BBC America!"
Referring to what he often sees as "optimism vs. pessimism," House says that he often talks with the barman at the Ace-in-the-Hole about the differences between his old and new homes. "Stanley and I often compare the countries, looking for what is better in the U.S. and the U.K. and vice versa. On the whole most Americans, that I have met, love the U.K.," he says, "though I'm not sure all Brits like America."
Bearing that in mind, he has some advice for Brits in the U.S. "Don't get sick, avoid the police and lawyers and have a good education," he says bluntly. As for his cider, he can be pushed to admit that he especially likes Ace's flagship Perry (pear) and pineapple, "especially when the weather's hot." Adding juice has become a common practice in the ever-more competitive market, and Ace Cider comes in a variety of flavors including apple, pumpkin, seasonal berry and apple honey, and Joker, a dry champagne cider.
As for the future, House has a clear aim "to continue to build the largest family-owned independent cidery in the U.S.," and adds, "I want to pass it onto my kids and retire with enough money not to have to worry."
Finally, he mentions some of the cider world quirks. Female drinkers are coming on board in big numbers for one, and he blesses the current fad for being gluten-free. "Cider has no grains like barley or wheat," he explains, "and even though sometimes it seems the people don't even know what gluten is, they're switching to cider."
See more:
10 Pubs in California You Should Visit
Tippling Teens: What British Parents in America Need to Know
Read More
Filed Under: