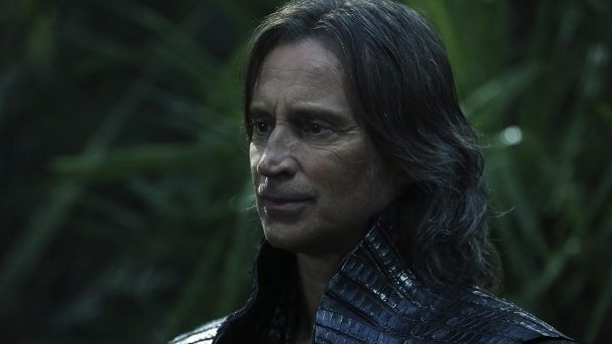 We've hit the Brit-spotting jackpot with ABC's Once Upon a Time, which makes its season premiere on Sunday, September 28 at 8/7c. You're not dreaming, this isn't a fairy tale, we have a monstrous list of Brit binge-worthy performances for the past and present British (and Irish) actors from OUAT.
Maybe you'll be granted a "third wish" to make your way through everything by the weekend's end:
1. Robert Carlyle
In addition to Storybrooke's Mr. Gold, Carlyle plays Rumpelstiltskin, also known as the "Dark One," a sorcerer who comes to influence and intersect nearly every other character and story line in the show. Carlyle's multifaceted portrayals of his characters' complexities come as no surprise, given the actor's outstanding oeuvre. Here are five of his earlier roles available online:
California Solo
Carlyle plays a divorced musician, who has a run-in with immigration. He has a daughter he hasn't seen in a while, and needs to prove to the law, and to himself, that he's worth something to someone in the U.S., or he might be deported.
Watch California Solo on Hulu Plus or Amazon Instant.
Trainspotting
Danny Boyle's film follows Renton (Ewan McGregor) and his friends—Sick Boy (Jonny Lee Miller), Spud (Ewen Bremner), Begbie (Carlyle)—as they hustle their way through Edinburgh, Scotland looking for the next fix and an escape from a standstill life all the while avoiding 9-to-5 jobs.
Watch Trainspotting on Netflix or Amazon Instant.
The Full Monty
Carlyle plays a dad trying to figure out how to support and earn the respect of his young son. He and his friends, who are also unemployed, come up with a plan that requires losing it all first. Carlyle is joined by Tom Wilkinson and Mark Addy.
Watch The Full Monty on Amazon Instant.
Ravenous
Carlyle stars opposite Guy Pearce as a soldier stationed in California, who find themselves up against cannibals in this dark comedy. It's eat or be eaten.
Watch Ravenous on Netflix or Amazon Instant.
Angela's Ashes
Carlyle portrays the patriarch of a Northern Irish family who struggles to escape poverty. The autobiographical story is told from his son Frank McCourt's perspective, author of the bestselling memoir.
Watch Angela's Ashes on Amazon Instant.
2. Colin O'Donoghue
As the pirate captain Killian Jones/Captain Hook, Irish actor O'Donoghue has captured plenty of hearts (namely Emma Swan's) with his sly smirk and devilish charm. Here are two of his standout performances available online:
Storage 24
A group of people, including O'Donoghue's character Mark, are inadvertently locked in a storage facility. And, they're not alone.
Watch Storage 24 on Netflix or Amazon Instant.
The Rite
O'Donoghue plays a young man who tries to get a free ride off of the church. He enrolls in seminary school in order to get a college education, with plans to abdicate his vows after receiving his degree. Father Matthew (Toby Jones) is on to him, and recruits him to work as an exorcist, or he'll lose his funding. Anthony Hopkins rounds out the cast.
Watch The Rite on Amazon Instant.
3. Jamie Dornan
Though perhaps more recently known for his upcoming role in 50 Shades of Grey, Dornan first made his mark as both the Huntsman (the Evil Queen's unwilling right hand man) and Sheriff Graham (Storybrooke's resident police officer). After bringing the Huntsman to life as the Evil Queen's perfect assassin he made his way to BBC Two in The Fall:
The Fall
Some people tend to think serial killers have a menacing look, and stand out from the crowd. Nope, Dornan plays a handsome, doting father who freelances as a serial killer at night. But with Detective Superintendent Stella Gibson (Gillian Anderson) on his tail, it's not sure how long he has before he's caught.
4. Michael Socha
In a stunningly unique move, Socha's role as Will Scarlet, a.k.a the Knave of Hearts, brought him from the spin-off series Once Upon a Time in Wonderland to being a regular on its parent show—you guessed it—Once Upon a Time. It's no wonder he made such an impression, Socha has been doing stellar work since his debut in This Is England. Check out three of his earlier performances available online:
Being Human
Socha joined the supernatural series in 2011 as Tom, a werewolf, who was "infected" as a baby. He grew up in the woods with his werewolf father, never interacting with humans or others. Socha appeared in 18 episodes.
5. Rebecca Mader
Rebecca Mader may be an even bigger fan of Once Upon a Time than you are. The actress went on record saying that she accepted her role without actually knowing who she would be playing. However, that bold move took no skin off her nose, as she clearly had a blast as the mischief-making Wicked Witch of the West and her Storybrooke counterpart, Zelena. OUAT is probably Mader's standout role to date, but here are some of her supporting performances:
The Rainbow Tribe
This feel good film revolves around a sleepaway camp and the counselors that help them through the summer antics. Keep an eye out for Mader as Mrs. Murray.

Watch The Rainbow Tribe on Netflix or Amazon Instant.
Ceremony
In this American film, a young man (Michael Angarano) crashes the wedding a woman (Uma Thurman) he has a crush on. Mader's character is Esme Ball.
Watch Ceremony on Amazon Instant.
6. Tom Ellis
Ellis introduced us to the show's take on the iconic Robin Hood, but he unfortunately wound up being unable to reprise his role for a recurring arc. Have no fear, we're here to rectify the lack of Ellis in your life with his other television appearances, available to stream online now:
Miranda
Ellis stars opposite comedian Miranda Hart in the BBC series. Ellis plays Gary, the object of Hart's affection. It seems like he doesn't know she's into him, but really, how can he not?
The Catherine Tate Show
Ellis guest-starred in three episodes of The Catherine Tate Show as Detective Sergeant Sam Speed. Speed is hit by a car, wakes up in another time, not sure how he got there, feeling like he was on another planet … sound familiar?
Watch The Catherine Tate Show on Netflix or Hulu.
Merlin
Ellis joined the established cast of Merlin in 2010 as King Cenred in four episodes. The below clip might be a bit of a spoiler, so please don't watch if if you want to be surprised.
Watch Merlin on Netflix, Hulu, or Amazon Instant.
7. Sean Maguire
Carrying on the torch from Ellis is Maguire, who took on Robin Hood for the remainder of his arc on Once Upon a Time as well as a guest spot on Once Upon a Time in Wonderland. Check out Maguire's online presence below:
The Third Wish
A young woman (Jenna Mattison) is surprised when she finds out she has a fairy god father, played by Maguire, and he happens to be British. She's given three wishes.
Watch The Third Wish on Netflix on Hulu.
Meet the Spartans
Maguire stars as king Leonidas in this spoof of 300. He doesn't quite have 300 men behind him, more like 13.
Watch Meet the Spartans on Amazon Instant.
8. Julian Morris
London-born Morris' bone structure is fit for a Prince, Prince Phillip, to be exact. Morris's dashing prince is on a quest to find his true love, Aurora, with quite a few hiccups along the way. You can watch Morris' pretty little face in these two shows online:
Pretty Little Liars
Morris stars as a medical student engaged to Melissa Hastings (Torrey DeVitto). But he has the hots for her sister Spencer (Troian Bellisario). Morris appeared in 20 episodes.
Watch Pretty Little Liars on Netflix.
24
Morris joined the action thriller TV series in 2010 as Agent Owen. He appeared in six episodes.
9. Sarah Bolger
Bolger's Aurora/Sleeping Beauty takes on a role slightly less passive than that of her fairy tale lore character, the Aurora you get here is determined to prove her strength despite preconceived notions of her upbringing and appearance. Here are some earlier performances from the Irish actress:
The Tudors
Bolger portrays Mary Tudor, the daughter of King Henry VIII (Jonathan Rhys Meyers) and Catherine of Aragon (Maria Doyle Kennedy). There was one slight problem with the young princess … she wasn't a boy. In the below clip, Bolger stars opposite fellow OUAT costar Colin O'Donoghue.
Watch The Tudors on Netflix, Hulu Plus or Amazon Instant.
The Moth Diaries
This eery thriller revolves around a girl's boarding school. Rebecca (Bolger) is creeped out by a new student, but can't quite put her finger on what makes her so threatening.
Watch The Moth Diaries on Netflix, Hulu, or Amazon Instant.
The Spiderwick Chronicles
Based on the bestselling children's books series, Bolger stars opposite Freddie Highmore. Highmore plays twins Jared and Simon Grace, with Bolger playing the older sister Mallory. The Grace children seek to find out the secrets of Spiderwick Estate.
Watch The Spiderwick Chronicles on Amazon Instant.
Whew! Quite a list, this should keep you busy through the weekend (or month).
What are you going to watch first? 
See More:
Brit Binge Watching: Five Roald Dahl Adaptations Available Online
Brit Binge Watching: If You Like the British Actors on 'Game of Thrones' … 
Brit Binge Watching: Five Tom Hardy Roles You Can View Online
Read More
Filed Under: