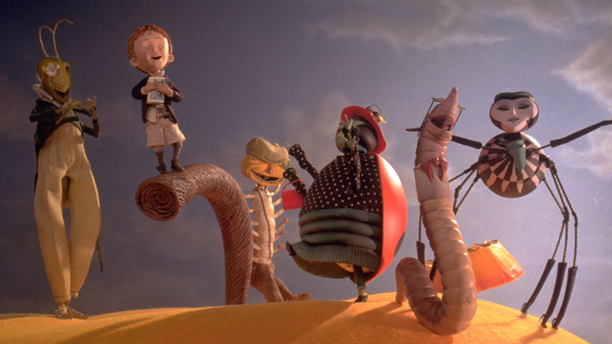 The anniversary of British author Roald Dahl's birthday is on Saturday, September 13, which also marks Roald Dahl Day. The entire month of September is filled with celebrations like Oompa Loompa Skydiving Day, which you can read about here. 2014 marks the 50th anniversary of Dahl's Charlie and the Chocolate Factory being published.
What better way to celebrate the celebrated author than to Brit binge on five of Dahl's delightful creations available online:
1. James and the Giant Peach
James Henry Trotter loses his parents in a most unexpected way and finds himself living with his two awful aunts. The young boy seeks refuge inside a ginormous peach. He befriends the talking bugs who get cozy in the peach. The film is both live action and animated. Actors Paul Terry (James), Richard Dreyfuss (Centipede) and Joanna Lumley (Aunt Spiker) lend their voices to the characters.
Watch James and the Giant Peach on Netflix or Amazon Instant.
2. Willy Wonka and the Chocolate Factory (1971)
Charlie Bucket (Peter Ostrum) is one of millions of children who wins a golden ticket allowing him entrance into Willy Wonka's (Gene Wilder) chocolate factory. Not to be misleading, the factory makes way more than chocolate as the children soon learn.
Watch Willy Wonka and the Chocolate Factory on Amazon Instant.
3. Matilda
A little girl by the name of Matilda (Mara Wilson) has magical powers that her parents (Danny De Vito, Rhea Perlman) aren't too keen on. Matilda finds comfort and guidance in her schoolteacher.
Watch Matilda on Amazon Instant.
4. Fantastic Mr. Fox
Mr. Fox (George Clooney) and his family engage in a battle of wits with the farmers who try to invade their underground dwellings in the animated film directed by Wes Anderson. Anderson, Owen Wilson, Meryl Streep, Jason Schwartzman, Bill Murray, Willem Dafoe and Michael Gamdon lend their voices to the film.
Watch Fantastic Mr. Fox on Amazon Instant.
5. The Witches
A young boy (Jasen Fisher) travels with his grandmother (Mai Zetterling) to a hotel in the South of England for a quiet holiday. At the hotel the boy notices something is up with an all women's convention, realizing they're witches. As soon as he notices them, they notice him, turning him into a mouse. Other familiar faces include Angelica Huston as the Grand High Witch, and Rowen Atkinson and Bill Paterson.
Watch The Witches on Amazon Instant.
What's your favorite Roald Dahl story?
See More:
Steven Spielberg to Direct Film Adaptation of Roald Dahl's 'The BFG'
Dame Judi Dench and Dustin Hoffman to Star in Roald Dahl's 'Esio Trot' for BBC
Brit Binge Watching: Five Classic Novel TV Adaptations You Can View Online
Read More
Filed Under: