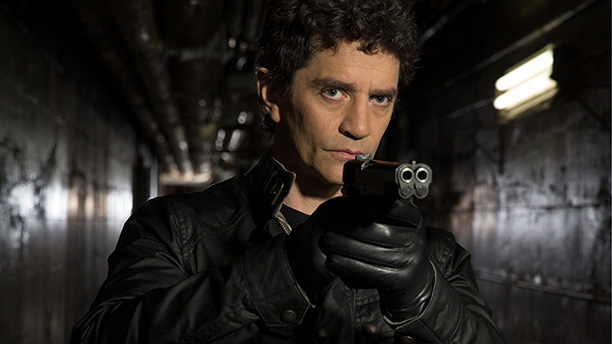 James Frain is one of those actors who you know his face, but you may not know his name straight away. We could say that's surprising considering he's appeared in over 20 films (The Count of Monte Cristo, Reindeer Games) and 40 TV shows, but actually it's pretty typical of character actors. But, that's about to change with the British actor taking the lead in BBC America's 8-part series Intruders, airing on Saturdays at 10/9c, opposite John Simm (Life on Mars).
Frain, who is prone to playing baddies, steps into the role of Richard Shepherd, the resident assassin in a sleepy Pacific Northwest town. Shepherd works to cover up the goings-on of a secret society that is clinging to immortality by taking over bodies that are not their own.
If, for some reason, you haven't been watching Intruders (cough, cough), it's not too late to catch up. The third episode airs this Saturday (September 6), and the first and second episodes are available on BBC America On-demand.
All right, you know his face, and now know his name, get to know James Frain a little better with five of his earlier roles:
1. The White Queen
This 10-part TV series, based on three novels by Philippa Gregory, tells the story of Edward IV, whose reign brought an end to the War of the Roses. Frain portrays Richard Neville, 16th Earl of Warwick, also known as "Warwick the Kingmaker." That is quite a title, with the series detailing how he earned that name.
Watch The White Queen on Amazon Instant.
2. True Blood
Frain joined the HBO series in its third season, starring in eight episodes. Frain's character, Franklin Mott, is a mercenary for hire. Mott is a vampire, but that doesn't stop him from killing his own kind, in addition to werewolves, fairies, humans … if the price is right. He's in town on business, but finds time for the ladies and has a soft spot for Tara Thornton (Rutina Wesley). Unfortunately, he doesn't have much luck with the opposite sex, and he doesn't take rejection too well.
Watch True Blood on Amazon Instant and HBO GO.
3. Tron: Legacy
Tron: Legacy is the follow up to Tron, which came out in 1982. Kevin Flynn (Jeff Bridges), a computer hacker, was sucked into a game, where he had to fight for his life gladiator-style. In the more recent Tron, Flynn's son (Garrett Hedlund) goes looking for him. Frain is almost unrecognizable in Tron: Legacy with his white face makeup and head "windshield." Frain describes his character in the below video as, "I'm kind of like a hopeless, wannabe, secret policeman loser." Aw.
Watch Tron: Legacy on Amazon.com Instant.
4. The Tudors
The Tudors stars Jonathan Rhys Meyers as King Henry VIII, dramatizing his extreme ways in love and ruling. Frain takes on the role of Thomas Cromwell, a lawyer, who served as chief minister to the king. Sure, you earn some bragging rights being the king's confidant. But, sometimes, it's best to stay under the radar. 

5. The Buccaneers
Five young American girls arrive to England looking for love. The young women take part in the "London Season," which presents to them available bachelors. Frain steps in as a successful suitor, but the marriage gets prickly soon after the nuptial.
Watch The Buccaneers on Amazon Instant.
Have you been watching Intruders? What do you think! 
See More:
Brit Binge Watching: 10 British Titles to Watch on HBO GO
Brit Binge Watching: Five Detective Series You Can Stream Online
Brit Binge Watching: Five British War Films You Can View Online
Read More
Filed Under: