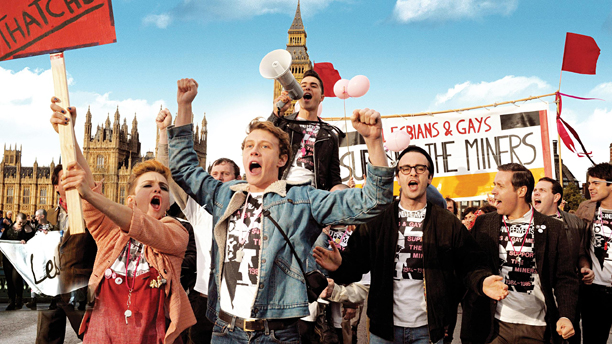 Pride, based on a true story, tells the little-known tale of the unlikely alliance between gay and lesbian activists and miners in the U.K. during the strike of the National Union of Mineworkers in the summer of 1984. The film, hitting U.S. theaters today (September 26), boasts a stellar ensemble cast, including Bill Nighy, Imelda Staunton, Dominic West, Andrew Scott, Joseph Gilgun, and Paddy Considine.
In celebration of its release, here are six British LGBTQ themed films and TV shows readily available for you to stream online now:
1. My Beautiful Laundrette
Set against the backdrop of 1980s London, this coming-of-age film follows Omar (Gordon Warnecke) and Johnny (Daniel Day-Lewis), two young men of differing backgrounds and upbringings who accept a proposition to open a laundromat together.
Watch My Beautiful Laundrette on Amazon Instant.
2. Torchwood
Created by Russell T Davies as a spin-off from Doctor Who, this series follows Captain Jack Harkness (John Barrowman) and his team of alien hunters at the Cardiff branch of Torchwood Institute. Torchwood is notable for its portrayal of LGBTQ characters—in addition to the central romance between Captain Jack and Ianto Jones, the show includes omnisexual, bisexual, and sexually fluid characters and relationships.
3. My Summer of Love
Starring a pre-Devil Wears Prada Emily Blunt, My Summer of Love tackles the "opposites attract" trope and explores the relationship between working class tomboy Mona (Natalie Press) and pampered princess Tamsin (Blunt). Based on the novel of the same name by Helen Cross, the film won the 2005 BAFTA award for Best British Film.
Watch My Summer of Love on Amazon Instant. 
4. Weekend
Can a real relationship emerge from a one-night hookup? That's a question posed by this drama about two men (Tom Cullen and Chris New) who attempt to build a romance from a quickie.
5. Imagine Me & You
Rachel (Piper Perabo), while walking down the aisle to marry a man, locks eyes with the florist who decorated the wedding, Luce (Lena Headey)—a moment that changes everything. This movie has love at first sight, coming out, and the best mating call ever, "YOU'RE A WANKER, NUMBER NIIIIIIIIIIIINE!"
Watch Imagine Me & You on Amazon Instant.
6. The Crying Game
In 1970s London, an unlikely friendship emerges between a Fergus, a member of the Irish Republican Army (Stephen Rea), and Jody, a kidnapped British soldier (Forest Whitaker). Their bond leads Fergus to an unexpected romance with Jody's girlfriend, Dil (Jaye Davidson), and a consequent tangled web of secrets. This 1992 thriller, with its legendary plot twist, went on to win the Academy Award for Best Screenplay.
Watch The Crying Game on Netflix.
See more:
WATCH: Gay Rights and Coal Miners: Matthew Warchus Directs Film on Little-Known Moment in UK History
Alfred Molina Stars Opposite John Lithgow in Gay Marriage Drama
UK Film About Arab Brothers – One Gay, One Straight – Heads to Berlin
Read More
Filed Under: