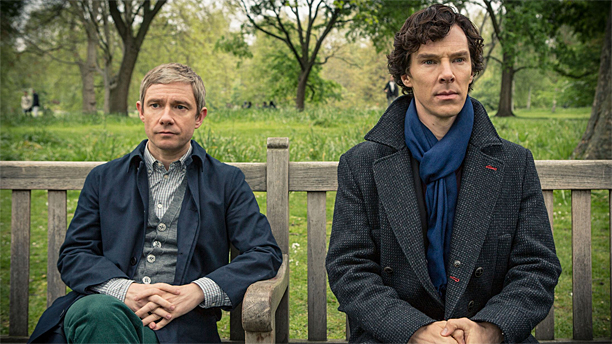 So far the key adjective used to describe the forthcoming Season Four of Sherlock has come from Steven Moffat, and it is "devastating." That's a worry.
Thankfully, Benedict Cumberbatch has come up with a far nicer one, describing both the Christmas special (due in 2015) and the three-part series to follow as being "phenomenal."
His full quote, given to Empire magazine, is: "I can't give any plot away… but their pitch for the Christmas special and the series beyond that is just phenomenal.
"We've never seen [Sherlock] being really pressed yet, so that will be interesting."
And, apart from throwing the word "interesting" in there like that's not just as worrying a term, his version of events is a lot easier for fans to take, given the immense wait that lies between now and when these things finally arrive.
After all, "devastating" could describe a huge spectrum of upsetting situations, from the death of one or all of the major characters to the sudden realization that there is no Sherlock Holmes and all of his stories are merely nightmares conjured up within the post-traumatic mind of war veteran John Watson. These things would be "devastating," but they may not be "phenomenal," and really, as fans what we want is "phenomenal" all the way, with perhaps a sprinkle of "devastating" here and there.
Benedict also claimed to want to see Sherlock through until a natural end, and if that means playing the part until he's physically unable to do it any more, so be it:
"I'd like us to finish on a high, but we'll do it until we don't want to do it anymore.
"As long as the ideas are still there and the audience still wants it… I'd love to do it into old age, I really would."
Now that really would be phenomenal.
See more:
Steven Moffat Hails Record-Breaking Gathering of Sherlocks
Steven Moffat on 'Sherlock': "Our Plan is Devastating"
PHOTOS: The Sidewalk 'Sherlock Holmes' Quotes of Plymouth
'Sherlock' Fans Turn Detective To Find Missing Film
Read More
Filed Under: