Benedict Cumberbatch graces the front cover of this week's London listings magazine Time Out, and there's a lovely interview inside, in which he discusses, among other things, exactly how he came to be jumping up and down behind U2, on the red carpet at this year's Academy Awards.
Never has a moment's whimsy been made such a colossal international fuss over. And it seems the show's host, Ellen DeGeneres, is entirely to blame, with her generous supplies of red carpet booze:
"Yes, I photobombed U2! But that was all Ellen DeGeneres's fault because she plied everyone with vodka on the red carpet. Her team was handing out these miniatures. A friend really wanted me to get a photo with U2. So I just saw the opportunity and I've never felt an impulse like it.
"I spotted them all standing around and I thought, 'Perfect!' It wasn't preordained or anything. I just did it."
But was it worth it? That's the question: "Oh god, I had a ridiculously good time. I was a little nervous, but then I got there and, like everything on screen, it was smaller than you expect it to be. I felt like I crashed the party a bit."
He also discussed his contribution to the ALS Ice Bucket challenge, which he did multiple times, seemingly to do better than Tom Hiddleston: "I chose all the shots and rehearsed it with my niece – who acted as my director of photography! The first time we tried it she'd stopped filming and I had to do it all over again. I got a cut above my eyebrow from the ice."
"Tom Hiddleston had done it once, and then the Internet was asking when I was going to do it and if I'd wear a white T-shirt apparently. And I actually did wear a white T-shirt for the last one, which they [the fans] were apparently quite happy about, so I was saving the Internet!"
Here's the Time Out cover: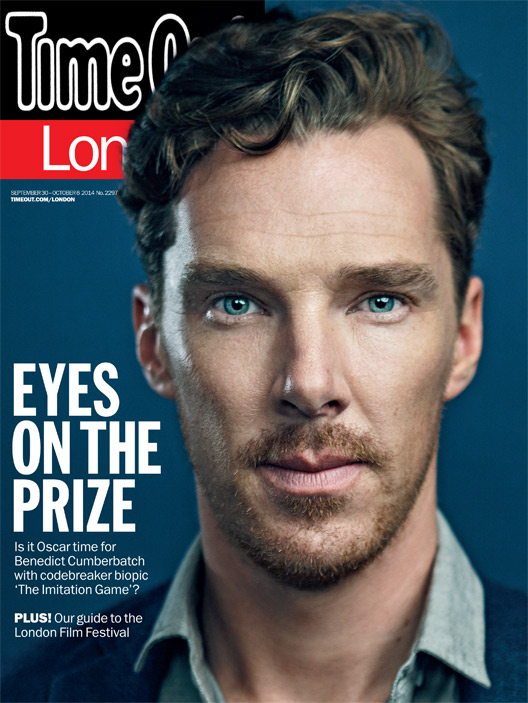 He also addressed the question of just how busy he is at the moment. The answer to which is 'very,' as you'd expect.
He said: "When I get to Toronto I need to find a dark, lonely corner in the airport and literally just breathe and meditate for ten minutes to clear my head. But I can. That's the thing. As long as I get enough rest and keep fit and healthy, I seem to be all right at compartmentalizing; I'm also getting much better at prioritizing – those are the two secrets really."
He continued: "My diary may be full until 2016, but I am doing things that I chose carefully. And the most important thing is being able to make sure that it continues.
"I am not an overnight success; I have been doing it for 12 years. It has been lovely and varied so far, but not all at this level."
Oh, and before you go running to eBay to buy a copy at inflated prices, there is a far cheaper digital version available to all.
See more:
Go on, Benedict Cumberbatch, Say "Penguin"
Benedict Promises "Phenomenal" New Series of 'Sherlock'
A Sole Picture of Benedict Cumberbatch as Wet Mr. Darcy
Benedict Cumberbatch Finally Addresses His 'Yumminess'
Read More
Filed Under: