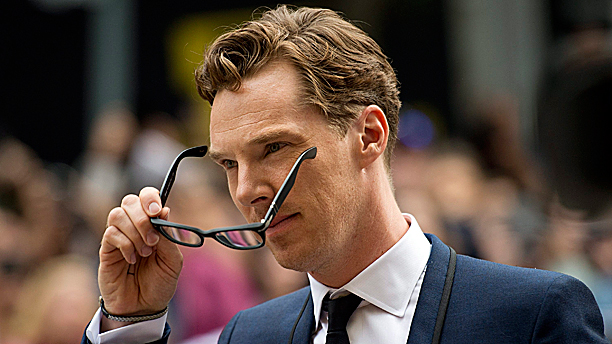 There's a fantastically thoughtful and incisive interview with Benedict Cumberbatch at The Daily Beast currently, which he gave at the Toronto International Film Festival to promote his latest movie The Imitation Game. The movie is a biopic of the English mathematician Alan Turing, who helped the Allies crack the German Enigma code during World War II and thus helped secure victory.
As the film explains, Turing was later persecuted for his homosexuality, charged with the euphamistic crime of "indecency," given oestrogen injections to destroy his libido (which he chose over spending two years in prison), and eventually committed suicide, aged 41. A desperate situation that chimes with so many themes that are prevalent in today's news, not least issues of persecution, the application of data and fear of outsiders.
In the interview, Benedict tackles these issues head on, offering both the benefit of his research into playing both Turing himself and also Julian Assange in The Fifth Estate—another figure whose work became blurred in the public consciousness with both sexuality and the law—and his own beliefs.
Here are a few highlights:
On the widespread suspicion (among the authorities) of homosexuality during the post-war era:
"That's shocking, but sadly not in ways that still have echoes of what that period was about—this deluded paranoia that everyone who was homosexual was immediately a communist. It was the same witch hunt with us. Being homosexual was a massive red flag—no pun intended, but pun intended. That world of men living in secret about their sexuality was an incredibly clandestine place, which made it a very rich and fertile ground to accrue spies from—because their entire lives were held in secret.
"It's like the radicalization of young Muslims now—things work in close proximity, and it spreads by word of mouth. If you have people of the same ilk side-by-side, that's the best way to spread a secret. You don't want it publicized, and you have to do a great deal of subterfuge. Being a homosexual in that era was considered morally repugnant, punishable, and curable."
He continued: "It's also shocking that any time there's any kind of hardship, the minorities are immediately scapegoated—and that includes homosexuals in Russia, the Golden Dawn in Greece. The Golden Dawn came out of a financial crisis and people wanted answers, and the minute you start stirring up nationalistic feelings, minorities are the first people to get it because they're the easiest to scapegoat. It's terrifying."
On his own experiences of homophobia:
"In an all-male boarding school, in the olden days, it was seen as being something that 'just happened' since there were no girls, so you had a bit of an experience. But there was incredible homophobia at my school, to the point where two boys who were caught doing something were literally chased down the street.
"I asked these kids coming back from the house who were breathless from the hunt, 'What are you doing, you insane idiots?' They explained it, and I said, 'And you're a Sikh, you're Jewish, and you're from Kenya. Do you want to just sit down and talk about the strife that your people have suffered because of your religion, race, creed, or color?'"
On the role of the hacker as a 'disrupter' of society:
"It's interesting: Outsiders are becoming mainstream. That's the truth. You see it in culture, as well. Bryan Singer's X-Men series is an entire celebration of what oppressed minorities are capable of. I think that's a really healthy thing that's happening in our culture. We have a lot more unlikely heroes now. It's not just the guy with guns—it's the guy with brains."
On celebrity hacking vs. data investigation:
"I think invasions of privacy are not to be tolerated. At the same time, that's a much more complicated question because sometimes, by revealing truths, we understand better what truths are being kept from us and therefore how undemocratic our seeming democracy is. It's a balancing act. You have to respect certain rules of law and progressive means of facilitating change from other avenues. If you rebel and throw all principles out the window, you lose traction."
Read the full interview at The Daily Beast.
See more:
WATCH: British Stars on the Run for Cancer Campaign
Benedict Cumberbatch Has Just Won the Ice Bucket Challenge
WATCH: Benedict Cumberbatch's Jar Jar Binks Impression
10 Best Moments from Benedict Cumberbatch's Comic-Con Debut
Read More
Filed Under: