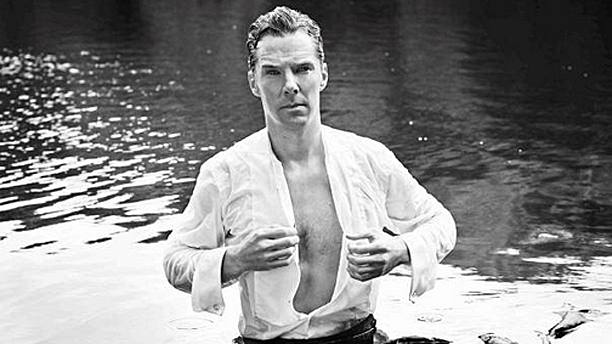 Let's cut to the chase. Above and below these words is a photo that, if you have not already seen it, draws the eye in such a way that it really doesn't matter what I'm saying right now. I could be describing a perfect ploughman's lunch, describing one of the more arcane by-laws of cricket or listing the key ingredients in mulligatawny soup for all the good it will do.
What the eye is magnetically drawn towards is this photo of Benedict Cumberbatch in a lake, an image that has come to light as part of a campaign by Cancer Research UK and the clothing shop TKMaxx called Give Up Clothes For Good.
Now, before the mind becomes inexorably soiled by mental images, the thrust (stop it) of the campaign is not that people should bare all, but that they should donate unwanted clothing and accessories to raise money to tackle childhood cancer. Benedict is one of many celebrities—including Jerry Hall, Kate Winslet, Liam Neeson and Hugh Bonneville—who've been photographed by Jason Bell, in a variety of eyecatching situations.
And now his images are not just being used to draw attention to the campaign, they form part of an exhibition in London's Pall Mall, to raise further funds.
So, here's the Mr. Darcy shot. Sadly not part of a whole new production of Pride & Prejudice, but not to be sniffed at neverthele… HEY! I said NOT to be sniffed at!
Benedict Cumberbatch becomes Mr.Darcy for #giveupclothes by @jasonbellphoto a partnership with @TKMaxx_UK and @CR_UK pic.twitter.com/czBkVEMem0

— DundasCommunications (@DundasComms) September 16, 2014
See more:
Benedict Cumberbatch Finally Addresses His 'Yumminess'
WATCH: Benedict Cumberbatch Playing Hide-and-Seek
Benedict Cumberbatch: "Outsiders are Becoming Mainstream"
Benedict Cumberbatch Has Just Won the Ice Bucket Challenge
Read More
Filed Under: