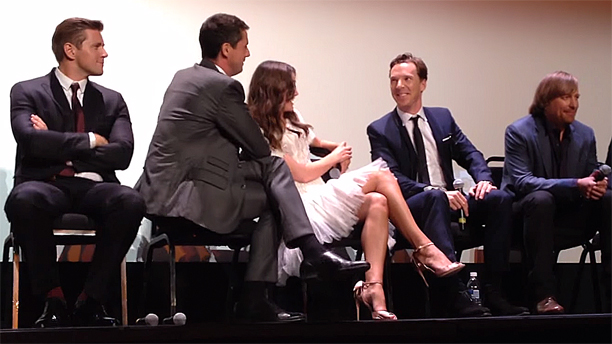 OK, there have been too many excellent Benedict Cumberbatch interview moments this week. He's on a roll and that means there's a lot to talk about. But really, you need to see this.
At the Toronto International Film Festival, the cast of the Alan Turing biopic The Imitation Game were taking a Q&A session. As one would expect, Benedict's mere presence in the room was enough to cause some excitement, with the bulk of the questions coming from women in the audience, and addressed directly his way.
This reached something of a … of a … well I'm trying hard not to use the word climax … when one woman took the microphone and began by telling Benedict that she feels he is "quite yummy," twice. Prompted for a question, she asked which element of Alan Turing did he identify with the most, before returning to her theme and ending with a question it is fair to say some other people in the room may have already been hoping to ask (albeit with slightly less creepy language): "Would I be able to feast on your yumminess?"
Here's a clip of this glorious moment:
Thankfully, as the sound isn't great Vulture was there to transcribe his answer, which came amid intense laughter from his fellow cast members, including a clearly delighted Keira Knightley:
"I'll answer the first part of your question, which is… Christ. Sorry, I'm taken. I did not go into this Q&A about a gay icon who killed himself at 41 thinking I'd have to answer questions from someone who wants to taste my deliciousness."
And in case you're wondering what the answer to the first part of the question is, Benedict gave a long and thoughtful answer, before concluding that is was Turing's sensitivity he identifies with, as he admits to being unfamiliar with the mindset of "a math genius, hero, or a gay icon."
He may be wrong in the latter case, mind you.
See more:
WATCH: Benedict Cumberbatch Playing Hide-and-Seek
Benedict Cumberbatch: "Outsiders are Becoming Mainstream"
Benedict Cumberbatch: "Hello, is it Me You're Looking For?"
Benedict Cumberbatch Has Just Won the Ice Bucket Challenge
Read More
Filed Under: