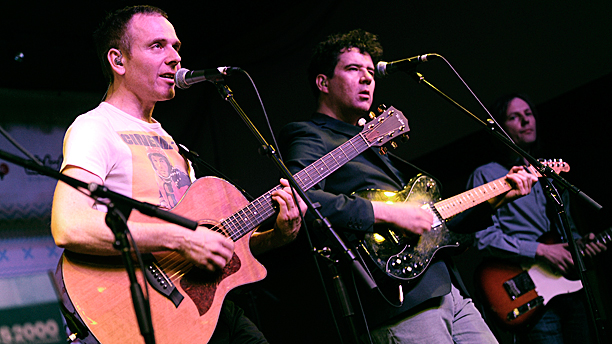 Today is the release date of God Help The Girl, the charming musical movie written by Stuart Murdoch of Belle and Sebastian fame, and as this trailer so vividly illustrates, riddled with a particular kind of aesthetic that fans of the band will find very comfortable indeed.
Here's the trailer, so you can see what sort of a thing it is:
If that doesn't quite sell it enough, here are 10 reasons why a Stuart Murdoch musical film is definitely something worth taking extra special note of: just a score of key songs taken from the embarrassment of riches that is the Belle & Sebastian songbook:
"The State I Am In" (1996)
The reason people get a bit giddy about Belle & Sebastian is that no college students working on a Music Business course should be able to unearth a talent with something as barbed and beautiful and damn-near perfect as the first B&S album Tigermilk. It's just not possible. And yet they did, and this is the first song on the record and if anything, it's the most perfect one. The rotten swine.
"Stars of Track and Field" (1996)
https://www.youtube.com/watch?v=uUY8gGGlBAs
And then later that same year they repeated the trick, re-bottled the lightning with If You're Feeling Sinister. All of the songs on the early B&S records had been vigorously road-tested by Stuart at various open-mic nights, so he at least was ready to go with the material, but it's the sympathetic backing—the muted trumpets stolen from old Love records, the gentle drums—that act as the perfect velvet setting for these lyrical gems.
"Seeing Other People" (1996)
Also from the second album comes this rolling tale of love gone wrong, complete with Charlie Brown piano.
"Is It Wicked Not To Care" (1998)
By the time of their third LP, the band's justified confidence was spilling out everywhere. First in this blankly insolent song, delivered by Isobel Campbell, the 'Belle' in the group's name …
"The Boy with the Arab Strap" (1998)
… and most notably in this rollicking glam stomper. It takes a certain attitude to combine a barbed lyric about a rival lover and his sex aid with a recorder solo, and yet they sit next to each other rather well.
"Lazy Line Painter Jane" (1997)
Just as the meatier elements of the rock press were deciding that Belle & Sebastian's songs were a bloodless affair, a tight-lipped and weak-limbed collection of songs that would swoon in the presence of a strong coffee, let alone an alcoholic drink, the EP that bears this song's name was released, with this absolute belter on it.
"Legal Man" (1999)
And then things started to get very strange indeed. A faux-sitar? A Hair-style communal freakout? And the single that would take the band onto Top of the Pops for the first time? Still, it is kinda grooovy. With three os.
"I'm Waking Up To Us" (2001)
Altogether less groovy is this spiteful breakup song, on a par with anything written by the various warring couples within Fleetwood Mac for their album Rumours. And that's a fitting comparison, given that the song was inspired by the declining and argumentitive relationship between Stuart Murdoch and Isobel Campbell, who left the band the following year.
"I'm a Cuckoo"  (2004)
There aren't many points of crossover between refined and polite Belle & Sebastian and the outrageously sexual Frankie Goes to Hollywood, but 2004's B&S album Dear Catastrophe Waitress was produced by Trevor Horn, the man who made "Relax," "Two Tribes" and "The Power of Love." Not that this bears any of that sonic footprint, being a breezier affair by far.
"Funny Little Frog" (2006)
What? That's 10? That's it? But we've barely scratched the surface! Is there really no room for "Judy and the Dream of Horses" or "The Blues Are Still Blue" or "It Could Have Been A Brilliant Career" or… (continues in this vein for several hours).
See more:
Belle & Sebastian Frontman Makes Sundance Debut with 'God Help the Girl'
20 Greatest British Songs of 2013
Brit Binge Watching: Five British Music Documentaries You Can View Online
Five British Music Stars That Should Be Knighted
Read More
Filed Under: