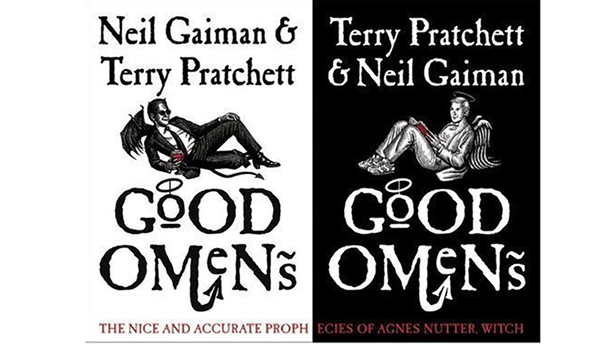 BBC Radio 4, in a secret London location, is collaborating with co-authors Neil Gaiman and Terry Pratchett in dramatizing the cult-favorite Good Omens, reports BBC News.
The novel, Good Omens: The Nice and Accurate Prophecies of Agnes Nutter, Witch, was published in 1990, and this is the first time it's being adapted into a broadcast performance.
While the story revolves around the End Times, the Apocalypse, it's actually a comedy. The angel Aziraphale (Mark Heap) and demon Crowley (Peter Serafinowicz) are quite comfy in their new digs on Earth, rubbing elbows with humans, but now they have to kick things up a notch, put their differences aside, and team up to stop the Antichrist Adam, and his gang, from bringing an end to the world.
First things first, they need to find the Antichrist.
In addition to Heap and Serafinowicz, the radio production stars Colin Morgan (Merlin), Josie Lawrence (Skins), Paterson Joseph (Peep Show), Clive Russell (Game of Thrones), Julia Deakin (Spaced), Louise Brealey (Sherlock), Simon Jones (Hitchhiker's Guide to the Galaxy), Arsher Ali (Four Lions), Phil Davis (Silk), and Mark Benton (Waterlooo Road).
The team that brought us the BBC radio production of Neverwhere (also by Gaiman), starring James McAvoy, Benedict Cumberbatch, Natalie Dormer, and Sir Christopher Lee, will be on deck to produce Good Omens.
The cast is in the process of recording the script, but the broadcast itself will air in December, in five half-hour episodes, five days in a row.
Have you read Good Omens?
See More: 
First Look: Benedict Cumberbatch, James McAvoy and Cast of 'Neverwhere'
WATCH: Twelfth Doctor Peter Capaldi in Neil Gaiman's 'Neverwhere'
'Doctor Who's Day Roundup: Neil Gaiman Is Back!
Read More
Filed Under: