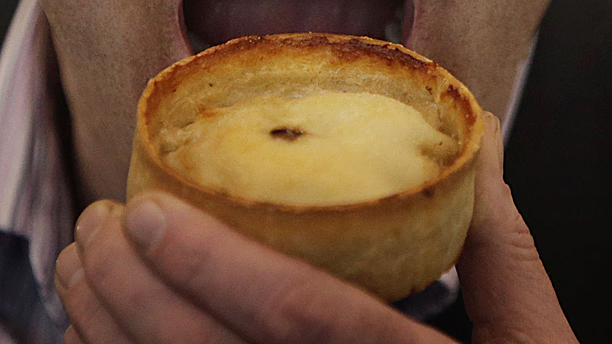 On September 18, the Scottish people vote on whether they wish to be formally independent from the United Kingdom. And it's a referendum that has stirred up strong feelings on either side of the debate.
We do not seek to inflame any of these feelings still further, but it seems a decent moment to celebrate Scottish culture in general, particularly its fine culinary history. So here are five recipes that you will not regret trying out, should you get the chance:
Mince, tatties and neeps
To stereotype along national lines for a second, the Scots are not a people that enjoy an excess of pretension or nonsense in their food. So if they're going to eat minced meat (beef or mutton, most commonly) with some potatoes (tatties—sometimes mashed, sometimes not mashed) and maybe a side order of mashed turnip (neeps), well they're just going to give it the most descriptive name possible.
And if that all sounds a little plain, why not try combining the turnip (or rutabaga, which is called swede) and potatoes into one mash, with extra chives, butter, or possibly beef dripping, with some onions, perhaps? This creates a delightful goop called, equally delightfully, clapshot. And you can always replace the mince with haggis; that's more than encouraged.
See Scotty Brand's mince, tatties and neeps recipe.
Bridie
For the less adventurous, a bridie is a pastry dish not unlike a Cornish pasty except there's no potato inside. The filling is most often minced steak, butter and beef suet, seasoned with salt and pepper. This is then placed inside an envelope of shortcrust pastry, with a hole in the top, for the traditional Forfar bridie.
In the rest of Scotland, they prefer to use flaky pastry. Sometimes minced onions are added too, in which case the baker will make two holes in the top, so the onionphobes will know which is which.
Scotch pie
On a similar note, this is another minced meat pie, filled with minced mutton (or other meats) and heavily spiced with pepper. The distinctive shape is formed by using a small round, straight-sided tin, which is lined with hot water crust pastry. Once the filling is inside, a disc of pastry is placed on top and the whole thing is crimped upwards, to form a ridge. When served, the pastry is cool enough to hold, even when the filling is hot, which makes it perfect for outdoor events such as football matches.
http://www.youtube.com/watch?v=1nArqhRyszw
And the ridge allows pie fans to add extra ingredients without spilling them, such as mashed potatoes, beans, gravy or even the occasional egg.
See BBC Food's Scotch pie recipe.
Clootie dumpling
Not the easiest dish to sell if all you have to go on is the way it is made, but bear with me a second. A clootie dumpling is a fruit pudding made with flour, suet, breadcrumbs and dried fruit (usually currants and golden raisins). Some variants involve milk as a binding agent, and golden syrup too. Once mixed, the dough is spooned into a piece of cloth—the clootie—which has been floured, and then tied into a bundle. This is then boiled for a couple of hours and then dried either in an oven or in front of a roaring fire.
And then it is delicious. Trust me.
See BBC Food's clootie pudding (as they call it) recipe
Cranachan
The perfect finish to a perfect meal. Cranachan is like an ice cream sundae, except you make it yourself and it contains oatmeal that has been soaked in whisky. And extra whisky too. You assemble the dessert yourself: tall glasses are brought to a table, alongside bowls containing raspberries, whipped cream, the toasted, whiskied oats, and some honey. You then spoon the ingredients into the glasses, according to taste.
There's also a variation that involves serving an ale-crowdie (roughly the same dish but with ale and treacle as well as the whisky and cream), which would be served at a wedding with a ring in the mixture on the understanding that the person who got the ring would get married next.
See BBC Food's cranachan recipe.
See more:
WATCH: Think British Food is Boring? 9 Dishes That Will Change Your Mind
Snapshot: 12 Photos of Traditional British Food Dishes
Welsh Rarebit Day: What Exactly is a 'Rarebit'?
Mint Julep Day: Five Foods the British Only Consume Once a Year
Read More
Filed Under: