We already took a spin around Bergen County, New Jersey, exploring British organizations and events. And, why stop there? Hudson County, named after English explorer Henry Hudson, is all sorts of Britished-up. Hoboken, just a 15-minute subway ride from Manhattan, landed at number one on Anglophenia's The 10 Most British Towns in America list. Here are 10 British things going on in Hudson County:
1. Northern Soul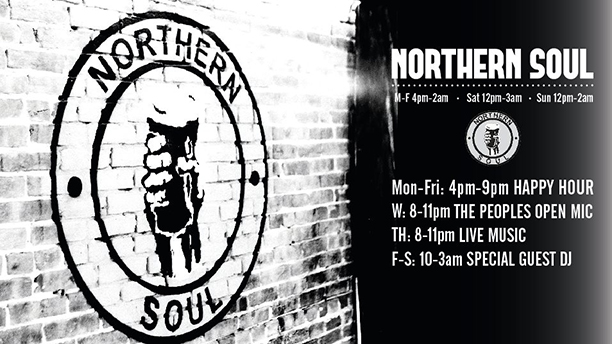 The term Northern soul describes a music movement that came out of the North of England in the 1960s. The bar Northern Soul, opened by two lads from the North of Ireland seven years ago, has earned its name by playing lively and unique music. People come for the tunes, stay for the company, and return for the Bloody Marys on Sunday. They don't have a kitchen, but do serve bar pies if you get peckish after a night of dancing. The bar is located in Hoboken, NJ, at 557 First Street.
2. Mulligan's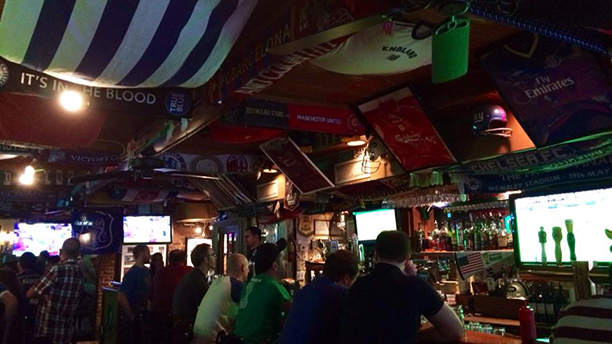 Mulligan's is an Irish soccer bar, also located in Hoboken at 159 First Street. Mulligan's is the place to go to watch the English Premier League, and is jam-packed beginning as early as 8 am through the wee hours with Brits, Irish, and everyone else in between. It's very rare that you'll walk into Mulligan's and not hear an accent from across the pond. It's actually common to meet someone who's traveled from the U.K. or Ireland and sought out Mulligan's as part of their holiday.
3. Scotland Yard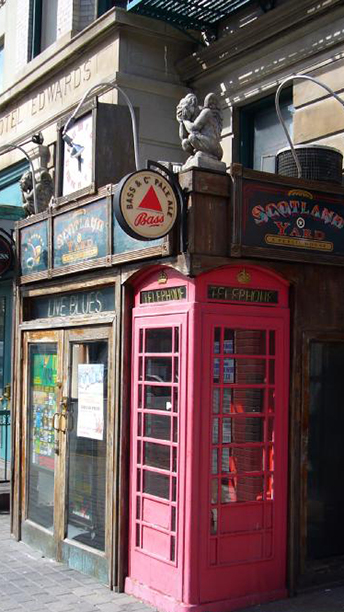 Scotland Yard is right off the Hoboken PATH (Port Authority Trans-Hudson) Station stop at 72 Hudson Street. If you're not familiar with the area, look for the Red Phone Booth. The bar is tiny but great, because you're almost promised to meet someone new. If you walk to the back area you'll find a dartboard. Or, stay in the front, where there's always something new to catch your eye. Again, Scotland Yard is known for its eclectic choice in music.
4. Scots Club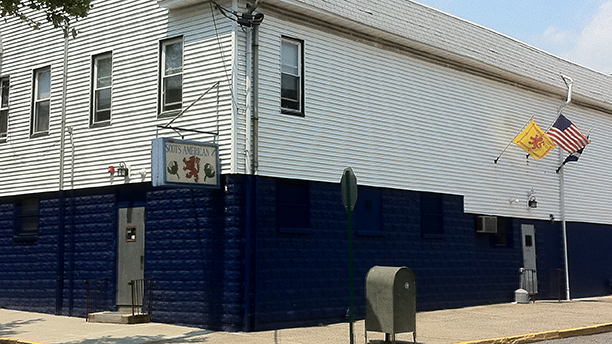 The Scots Club, in Kearny, NJ, was established in 1932. It's a place for Scottish, Scottish-Americans, and anyone else interested in having a chat or get together. The bar, listed as "Private Club, Members Only," opens at 11 am and is usually filled by 5 pm. While it says, "Members Only," I've been there for a function, and believe it's welcoming to all. Particularly, soccer fans. You can find it at 40 Patterson Street in Kearny, NJ. You can check out upcoming events here.
5. New York Red Bulls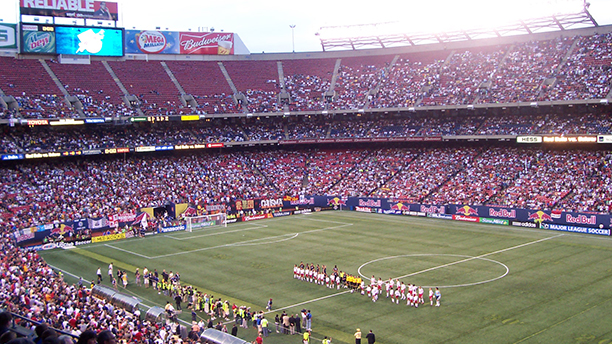 This may seem like a little bit of cheating, but the New York Red Bulls play at Red Bull Arena in Harrison, NJ. It's about a 15-minute train ride (three or four stops) from New York City's Penn Station. The current roster includes three players from England: defender Richard Eckersely, midfielder Lloyd Sam, and forward Bradley Wright-Phillips. You can check out the team's schedule here.
6. Empire Coffee & Tea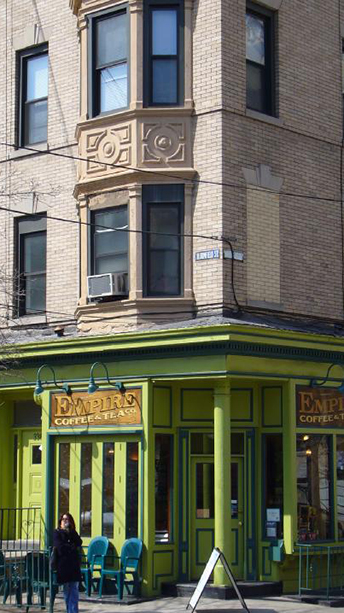 Empire Coffee & Tea, located at 338 Bloomfield Street, in Hoboken, NJ, boasts a loose leaf tea room that would make any Brit weak in the knees. The staff is very knowledgeable and can help you make your selection. The store's shelves are stocked with fun tea accessories like teapots, strainers and ironic mugs. If you're not into straining your own tea, you can order a cuppa at the counter.
7. The Bayonne Bombers Rugby Club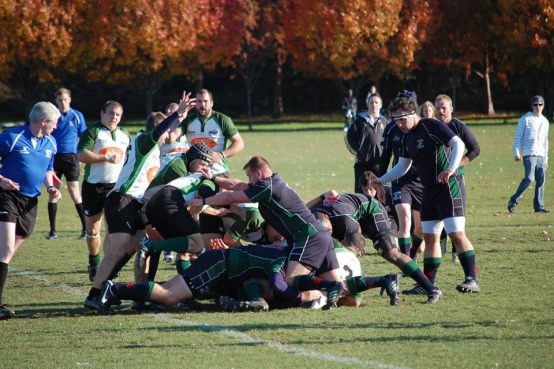 Founded in 1989, the Bayonne Bombers Rugby Football Club competes in Division II of the Empire RFU (Rugby Football Union), within the Northeast RFU of USA Rugby. The Club is made up of over 60 players from 12 nations. And, not too surprising, one of the Club's sponsors is Mulligan's (see #2 above). You can check out the schedule here.
8. Jersey City Cricket Club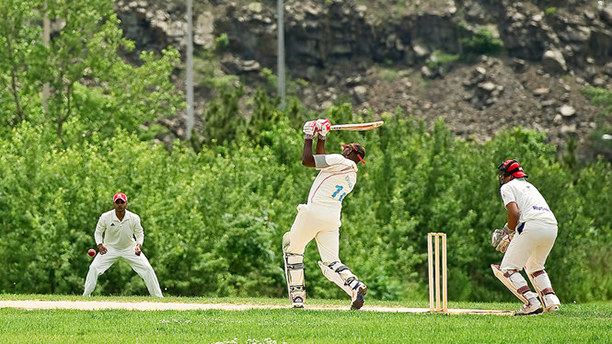 The Jersey City Cricket Club, a part of the New Jersey Cricket Association, plays out of Laurel Hill Park at 1002 New County Rd. in Secaucus, NJ. The Cricket Association was established in 1980, with ten clubs currently participating in the league. You can check out the Jersey City schedule here.
9. Hudson Shakespeare Company


Established in 1992, the Hudson Shakespeare Company has produced over 100 productions and is still going. The touring company performs in parks, at schools, and even courtrooms, visiting Hoboken and Jersey City in Hudson County. Shakespeare in the Park typically ends after the warm months, but Hudson Shakespeare Company has a fall season, which you can check out here.
10. Argyle Restaurant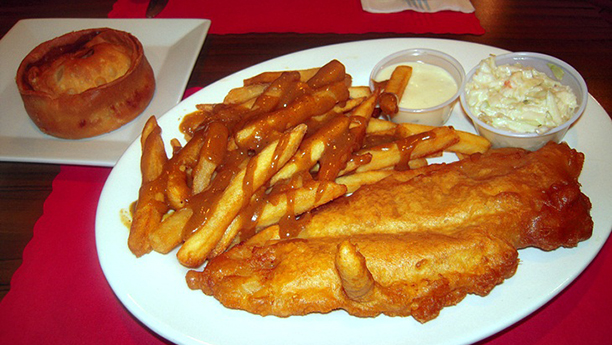 Argyle Restaurant, located at 212 Kearny Ave in Kearny, opened over 50 years ago in an attempt to satisfy the needs of the Scottish population settling down in the area. The restaurant started off small, with just a few tables and a takeout counter, and their Scottish fish and chips being their main staple. The restaurant now seats 123 customers, and offers traditional dishes like Highland oysters, Scotch eggs, meat pies, Bridie dinner, Haggis, shepherd's pie, and black pudding. If you want to eat at home, Stewart's Scottish Market, located at 338 Kearny Avenue in Kearny, is the place to go. The Market, established in 1931, makes Scottish dishes on the premises and provides Scottish and British specialty items.
Bonus: Hoboken offers a British meetup group for both expats and Anglophiles, which you can find out more about here.
What's your first stop? 
See More: 
10 British Things About Bergen County, NJ 
10 British Things About Your U.S. City
10 British Things About U.S. Cities
Read More
Filed Under: