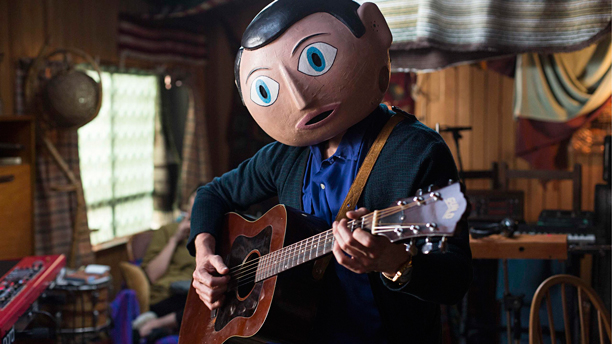 Strangely, a big attraction of the musical comedy Frank is watching actor Michael Fassbender appear almost throughout the entire length of a film with his face totally hidden by an expressionless artificial head.
In the picture, which is essentially a portrait of an experimental band, he is playing the oddball musician known as Frank Sidebottom.
For Fassbender, one of the most charismatic actors working in cinema today, playing a character hidden underneath a mask emboldened him.
He says: "You feel like you've disappeared, so it gives you extra confidence. It certainly gave me sort of a mischievous feel, anarchic strain. And so it was great because he is sort of an unusual character, he is somebody who lives inside his own world, he's insular; he can be very expressive and very remote. So yeah, it was very liberating."
But Frank is more than just eccentric: there was a limit to how much Fassbender felt he had in common with his character.
"I would say I'm pretty strange," he says. "But the serious side of the film is that Frank does suffer from mental health issues, and thankfully I'm not that far gone. So at the core of it there is something quite disturbing there."
The story is loosely inspired by the British musician-comedian Chris Sievey, who created Frank Sidebottom as his alter ego- but the film presents its own interpretation.
"I think Chris Sievey's Frank Sidebottom was a very different beast to this," says Michael Fassbender. Although the actor maintains they definitely retained "the anarchic streak of the character" in their portrayal.
Watch our interview with Fassbender and his co-star Domhnall Gleeson:
See more:
First Look: Michael Fassbender Stars in American Frontier Film 'Slow West'
WATCH: Sirs Patrick Stewart and Ian McKellen Trade Impersonations with McAvoy and Fassbender
WATCH: Marion Cotillard on Playing Lady Macbeth Opposite Michael Fassbender: 'He Surprised Me'
Read More
Filed Under: