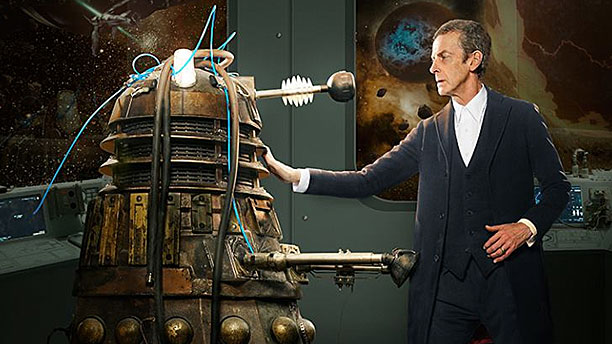 Naturally if you're against spoilers these should be avoided at all costs.
So, having discovered that the Twelfth Doctor is possessed of "attack eyebrows" and is proud of his Scottishness because it means he can commence moaning, what fresh thrills await us in this week's Doctor Who?
Well, according to the new teaser trailers for Phil Ford and Steven Moffat's "Into The Dalek", plenty!
We finally get to find out a little more about the context behind the Doctor's question "am I a good man?"
And then there's the small matter of the Doctor's first meeting with the Daleks in his new incarnation, and what the word "patient" may mean, given his name:
This clip may shed even more light on the subject:
And as you'll have already seen, here's the 'Next Time' trailer:
The plot synopsis is as follows:
A Dalek fleet surrounds a lone rebel ship, and only the Doctor can help them now… With the Doctor facing his greatest enemy, he needs Clara by his side. Confronted with a decision that could change the Daleks forever he is forced to examine his conscience. Will he find the answer to the question, "am I a good man?"
And if you'd like to see some more pictures, there's a gallery here.
"Into the Dalek" airs on BBC AMERICA at 9/8c on Saturday August 30.
See more:
Personality Quiz: How Daleky Are You?
Nine Ordinary Household Objects (And One Building) That Look Like Daleks
Doctor Who Rogues Gallery: The Daleks
The Complete Guide to Streaming 'Doctor Who' in the U.S.
Read More
Filed Under: