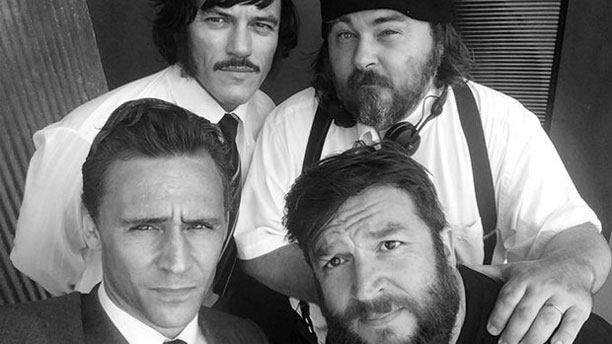 One of the most entertaining things about the image that Tom Hiddleston tweeted yesterday of his co-star and crew in High-Rise, the forthcoming adaptation of J.G. Ballard's dark novel, is that he's the only one who doesn't appear to be in character.
Look at the other three: Luke Evans, with his Paul McCartney moustache, is dressed as a member of a British beat group in 1967.
Director Ben Wheatley and director of photography Laurie Rose, who aren't even IN the film, both look like the character actors you put in a dystopian tale, just so you can kill them off. Laurie the local butcher with a cleaver that ends up embedded in his own face, and Ben the angry loner in Flat 24, eating his pets. Possibly played by Brian Blessed in a state of unusually quiet reflection.
The usual suspects. #HighRise @mr_wheatley @Laurie_Rose @TheRealLukevans pic.twitter.com/rNnVduxJOW

— Tom Hiddleston (@twhiddleston) August 6, 2014
And then, down in the bottom left-hand corner, the actor Tom Hiddleston just being himself.
Granted, his character in the film is well-to-do; a doctor lecturing at a medical school near the tower block which is about to be cut off from the rest of society, so he's likely to be fairly suave. He lives on the twenty-fifth floor, and psychedelic Luke (who should really be singing lead with the Move) is down with the second-floor hoodlums while the whole block resorts to tribalism and gang rule.
And as the Radio Times reports, within seven hours of the picture going up, there was a Lego version. Because the internet: 
The usual suspects. #HighRise @mr_wheatley @Laurie_Rose @TheRealLukevans @twhiddleston pic.twitter.com/P1YSPGy5aw — Lego Loki (@Loki_Lego) August 6, 2014
Although clearly in THIS picture, Lego Luke is being played by Lego Orlando Bloom.
High-Rise will be released in 2015.
See more: 
First Look: Director Tweets 'High-Rise' Set Photos, Thriller Stars Tom Hiddleston
WATCH: Tom Hiddleston Thought the Offer to Play Captain Hook Was a Joke
Hey, Good Lookin': Tom Hiddleston To Play Hank Williams
WATCH: Tom Hiddleston's Reaction to Pint-Sized Fans
Read More
Filed Under: