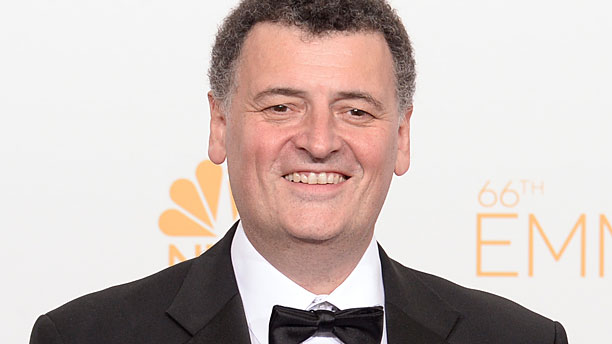 As all Doctor Who and Sherlock fans have learned by now, Steven Moffat has a knack for creating anticipation. He's masterful at giving a quote to journalists that jangles the nerves of fans all over the world just enough to raise expectations and pine a little more desperately for the return of their favorite time-traveller/stroppy detective.
So, what better time to continue this fine tradition than in front of the press, just after winning an Emmy for the Sherlock episode "His Last Vow"?
Speaking about the plans for Season Four of Sherlock, Steven said that he and Mark Gatiss have cooked up an idea so radical it actually shocked the cast, and it'll make "The Reichenbach Fall" look like a trip up the stairs.
Can they beat Season Three, with Sherlock's best man speech, Mary's secret double life and the potential return of an old and dead enemy? Of course they can:
"We have a plan to top it. Actually, I do think our plan is devastating. We practically reduced our cast to tears by telling them the plan.
"Honestly, Mark and myself are so excited with what we've got coming up, probably more excited than we've ever been about Sherlock…."
And he promised that this next season won't be the last, having already said they have plans for Season Five: "What's happening with Sherlock is unusual. We will keep coming back to it."
See more: 
Steven Moffat: 'Sherlock's 3-Episode Format Ensures a Long Future
Steven Moffat: "'Sherlock' and 'Doctor Who' Are Obtusely British"
10 Reasons Why Steven Moffat's 'Sherlock' is the Best
'Sherlock's Louise Brealey Joins 'Ripper Street'
Read More
Filed Under: