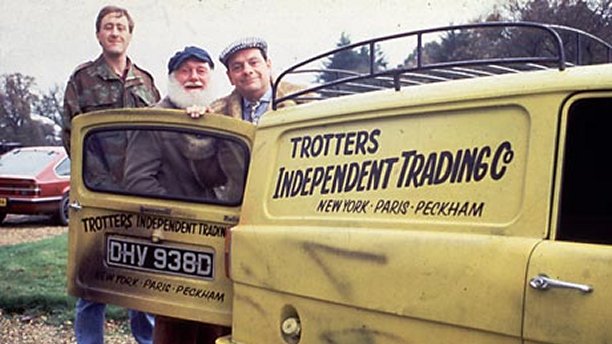 The cultural and linguistic variety on display across Britain can make understanding the different regions a difficult prospect for the unfamiliar. Fortunately, the great television staple that is the British sitcom is on hand, and many classic comedies have at their core an expression of the unique culture of their local surroundings. Join us, then, as we take a tour from north to south, with 10 sitcoms that we feel best represent their areas:
Glasgow: Rab C Nesbitt
This foul-mouthed, unemployed alcoholic, played by Gregor Fisher, may not be the character most Scottish people would want to represent them, but it's hard to deny that he's the country's most enduring comedy export. It initially ran for an impressive eight seasons between 1988 and 1999, and for a time was one of BBC Two's most popular sitcoms. It then returned for two-season revival in 2010/11. The heavy accents and dialect may seem impenetrable to begin with, but by the end you'll have a better understanding of Glaswegian speech than you ever thought possible. It has also, impressively, featured guest appearances from all three Scottish Doctors: Sylvester McCoy, David Tennant and Peter Capaldi.
Newcastle: Whatever Happened to the Likely Lads?
The tale of working class friends Bob Ferris (Rodney Bewes) and Terry Collier (James Bolam) began in the 1960s sitcom The Likely Lads, but it was with the 1973 sequel series that the characters became even more hugely popular, even making the step into a movie adaptation in 1976. Set in the North Eastern city of Newcastle-upon-Tyne, its key dynamic was the tension between the upwardly-mobile Bob and the staunchly blue-collar returning soldier Terry. It was an accurate reflection of the culture clash that resulted from the growth of middle class suburbia around traditionally working class Northern cities in the 1970s.
Watch a clip via the BBC website.
Yorkshire: Last of the Summer Wine
The longest running sitcom in history, Last of the Summer Wine ran for an astonishing 31 series over the course of 37 years—and even more astonishingly, every single one of its 295 episodes was written by the same man, creator Roy Clarke. The lineup of characters changed several times over the years, with one exception: Peter Sallis, also of Wallace and Gromit fame, appeared in every episode. But Summer Wine primarily focused on a trio of old men in a small Yorkshire country village and made extensive use of location filming in the beautiful town of Holmfirth, adding further authenticity to its portrayal of life in the county.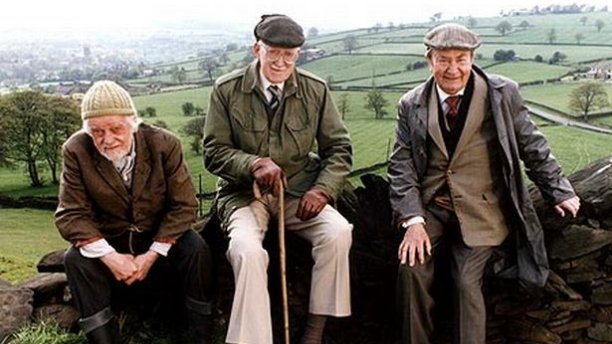 Manchester: The Royle Family
Created by and starring Caroline Aherne and Craig Cash, The Royle Family was somewhat revolutionary when it was first broadcast in 1998: a sitcom that took place almost in real time, and almost entirely within a single room in a terraced Manchester house, which would often show its characters sitting watching television for extended periods without speaking dialogue. This unconventional format and pacing, however, made it a startlingly accurate portrayal of an average family's home life in North West England. While set in Manchester, the parents of the family, played by Ricky Tomlinson and Sue Johnston, were from the nearby city of Liverpool, so it worked as a reflection of both places.
Birmingham: Citizen Khan
England's "second city," Birmingham has long been notable for its high Pakistani and Indian population, something that was reflected in this hit BBC One sitcom, that has so far run for two seasons with a third to come later this year. Creator and star Adil Ray had previously portrayed the character of Mr. Khan (first name never given) in the spoof radio phone-in show Down the Line and its TV spinoff Bellamy's People before the patriarchal Pakistani-Muslim community leader was given his own show.
East Anglia: I'm Alan Partridge
Where I'm Alan Partridge particularly shines is in its portrayal of provincial media personalities who fiercely reject London as the center of the U.K.'s broadcasting universe. There are precious few local radio and TV presenters in Britain who would actually admit that they're in any way like Steve Coogan's Alan Gordon Partridge, but he's a devastatingly accurate critique of a particular type. The 2012 one-off spoof documentary, Welcome to the Places of my Life, tells you far more about Alan's home county of Norfolk than you could ever need to know.
Wales: Gavin and Stacey
It might seem a little unfair to deal with the entirety of Wales in just one entry in this list, but that's indicative of Gavin and Stacey's status as the foremost Welsh sitcom of recent years. And this is despite the fact that, in its first season in particular, it's as much about the county of Essex as it is the Welsh coastal town of Barry, due to telling the story of the long-distance relationship between Mathew Horne and Joanna Page's lead characters. As the show continued and developed, however, it became based more heavily in Barry, while also being extensively filmed nearby in Cardiff.
Watch Gavin and Stacey on Netflix.
West Country: Wild West
The South-Western corner of the U.K. is generally under-represented when it comes to comedy — although look to Edgar Wright's Hot Fuzz for a shining hour on the big screen — but one exception is this little-known sitcom, which aired on the BBC between 2002 and 2004. Set in a tiny fictional hamlet in Cornwall, it starred Dawn French (herself a Cornish resident, although originally born in Wales) and Catherine Tate, and was written by Simon Nye.
Thames Valley: The Office
Of the many aspects of modern British life that the Ricky Gervais version of The Office so expertly portrayed, one in particular was the grey backdrop of identikit office, retail and industrial parks in and around minor cities in England. The Thames Valley is a nebulous region that runs roughly from the Western edge of London to Swindon in Wiltshire, taking in such towns as Basingstoke, Didcot, Reading, and The Office's base of Slough. All of these towns have plenty of positive features to recommend them, of course, but they sometimes struggle to forge an identity in the mind of the wider public, and it was this aspect that the show, which could just as easily have been set in any of them, reflected.
Watch The Office (U.K.) on Netflix.
London: Only Fools and Horses
Perhaps unsurprisingly, London is by far the best-represented area of the country when it comes to sitcoms, and we could have picked out any of the likes of Steptoe and Son, Porridge, The Good Life, The Thick of It, Peep Show, Spaced or several others to represent the capital. But Only Fools and Horses managed to make the small district of Peckham in the city's unfashionable South East a worldwide household name, and market traders Del and Rodney are possibly the most enduring sitcom portrayal of the archetypal Londoner.
Watch Only Fools and Horses on Hulu Plus.
And here are 10 other shows that will help your understanding of the U.K.:
Have we missed your favorite area? Which do you think are the U.K.'s best regional sitcoms?
Read More
Filed Under: