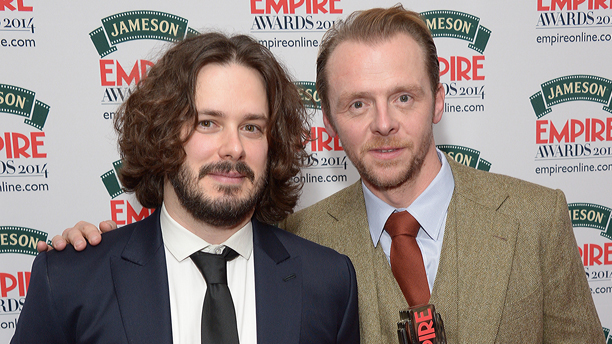 You could be forgiven for thinking that after the conclusion of their "Cornetto Trilogy" of films with The World's End last year, writing duo Simon Pegg and Edgar Wright might be down with taking a break from working with each other for a while. As it turns out, however, that couldn't be further from the truth: as Pegg has revealed in an interview with BBC radio station 6 Music that the actor and director, who also worked together on Shaun of the Dead and Hot Fuzz as well as the cult TV sitcom Spaced, are already thinking about their next collaboration.
"When we said the trilogy was over, it was because that group of films was over," Pegg explained. "They're all kind of related with each other and deal with a specific idea. There's a criteria to those films. The next thing we do won't do that, it will just be something else. It will happen. Edgar and I were having a conversation the other day about it, and it has a title and everything. We're kind of into a creative cycle now."
The difficulty, of course, is that the duo each have their own highly successful and busy careers to be getting on with in the meantime: Pegg as a star of Star Trek (and with rumors refusing to go away of his being involved in the new Star Wars movies in some capacity), and Wright with Baby Driver, his next film project after pulling out of directing Marvel Studios' Ant-Man.
"We've all got different things [going] on," continued Pegg, "and we know we have to get those things done. The coming-together thing is without question on the table and will happen when we can do it." While not mentioning the pair's third regular collaborator, Nick Frost, specifically, it seems likely that we'll see a reuniting of the trio, rather than just the duo, sooner rather than later.
In the meantime, Pegg also announced on Twitter yesterday that he and Frost will be returning to their Shaun of the Dead characters Shaun and Ed, for a special Halloween episode of the Disney Channel's Phineas and Ferb later this year.
Are you looking forward to another Pegg and Wright movie?
See more:
Simon Pegg on Edgar Wright's Departure from Marvel's 'Ant-Man'
Simon Pegg And Nick Frost Destroy 'Get Lucky'
Five Simon Pegg Performances You May Have Missed
Read More
Filed Under: