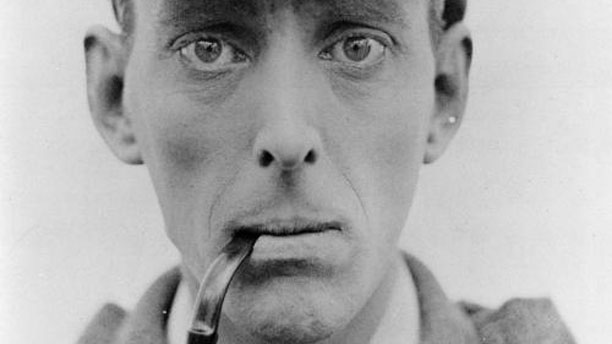 From the earliest days of cinema, film-makers have been adapting the adventures of Sherlock Holmes. And the sad truth is that not all of them have survived the passage of time.
According to the British Film Institute, there's one particular portrayal of Holmes that no one has laid eyes on for decades, and they're hoping that the current popularity of Sir Arthur Conan Doyle's hawklike consulting detective will help them track down a copy.
A Study In Scarlet, directed by George Pearson and starring James Bragington as Holmes, was released 100 years ago. A silent adaptation of the first Holmes tale, the film shows Brigham Young crossing Salt-Lake Valley with the church of Latter-Day Saints, and Holmes deducing his way through a series of murders. There's a very full description of the film at the BFI's website.
Now Holmes fans are being invited to speak up if they have any idea as to where a print of the movie may be hiding. Bryony Dixon, the curator of Silent Film at the BFI National Archive, says that she's hopeful Sherlock's super-smart fanbase will be able to detect the film, if anyone can: "Every archivist dreams of finding lost films, but this is a film of great importance. Sherlock Holmes is internationally renowned as a great detective. It would be wonderfully appropriate if a super-sleuth could help us celebrate the centenary of this film with a chance to see it."
Can you solve the mystery of the missing Sherlock film? Help us spread the word: http://t.co/bKdEBWa8yC #FindSherlock pic.twitter.com/hHfH6uY9Xj

— BFI (@BFI) August 15, 2014
And Alex Werner, currently in the middle of organizing the Sherlock Holmes exhibition at the Museum of London—which opens on October 17—added: "The long filmic history of Sherlock Holmes is unique – dominating popular culture in a manner only to be rivaled perhaps by Dracula or Frankenstein.
"As we prepare for the museum's major exploration of the most famous fictional Londoner of all time, it would be a remarkable achievement to discover this missing film in its centenary year, and at the very least, remind the public of Sherlock's endurance on-screen, interpreted literally hundreds of times for over a century."
So, what are you waiting for, Sherlockians? Get detecting! And if you find anything, contact the BFI at Sherlockholmes@bfi.org.uk or via Twitter using the hashtag #findSherlock.
See more:
PHOTOS: The Sidewalk 'Sherlock Holmes' Quotes of Plymouth
Now You Can Own A Sherlock Holmes Tweed Deerstalker
Why Martin Freeman Pretended His Wallet was Stolen at His 'Sherlock' Audition
WATCH: The REAL Sherlock Holmes! Meet the Man Who Inspired Arthur Conan Doyle
Read More
Filed Under: