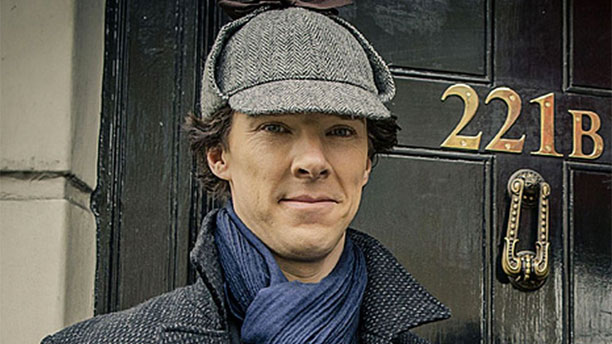 While thousands of people have spent this morning queuing for tickets to see Benedict Cumberbatch play Hamlet at London's Barbican theater next year, news has emerged of a Sherlock-related purchase that may prove to be equally popular in time, but far less restricted, geographically speaking.
This fall, the Museum of London launches its own Sherlock Holmes exhibition, drawing in a wide range of Holmes ephemera, and commissioning a couple of new pieces of its own. The most interesting of which is a deerstalker hat made in a specially-made Sherlock Holmes tweed.
I know, can you think of anything more Anglophenia than a Sherlock Holmes tweed?
https://www.youtube.com/watch?v=CqlBryYCIhw
In order to create a truly unique and fitting material, the museum have been working with the textile suppliers Lovat Mill, taking hints on color from Sir Arthur Conan Doyle's original stories as well the original tweeds of the Victorian era, as taken from their own archives. They've also brought in Christys' hatmakers to advise on the correct style for the hat, cross-referencing between their own collection of Victorian headwear and that of the venerable milliners.
And in case you think this will result in something a bit too retro to be of use nowadays, the museum also claims to have included the latest trends in menswear, so it will appear modern and stylish too. I mean, it'll still be a deerstalker, but still…
Anyway, the hats will also be on sale from Liberty, Christy's and the Museum of the London's online shop.
Steve Clark, MD of Christys' Hats, told Radio Times: "The Museum of London was very specific in its desire to develop a deerstalker hat and a tweed that Sherlock Holmes might have worn were he alive today – combining a classic profile with a contemporary edge."
…and maybe a hidden pocket for a smartphone. Did anyone suggest that?
The Museum of London's Sherlock Holmes exhibition opens on October 17, and will run until April 12, 2015.
See more: 
PHOTOS: The Sidewalk 'Sherlock Holmes' Quotes of Plymouth
Arthur Conan Doyle's Sherlock Holmes is Public Domain in the U.S.
QUIZ: Which 'Sherlock' Character Are You?
'Sherlock' Cosplay: How To Dress Like Sherlock
Read More
Filed Under: