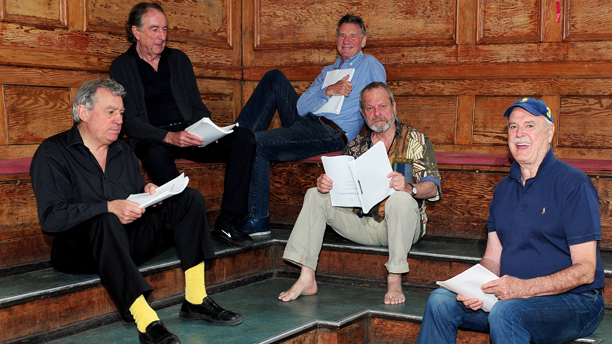 Well, here's a new one. It's not uncommon for television shows in the U.K. to come under investigation from the country's media regulator, Ofcom, when viewers complain about unsuitable material. Perhaps the most common complaint is the use of foul, or even just mildly naughty, language prior to the 9pm "watershed".
So it comes as something of a surprise to hear that the recent televised broadcast of the Monty Python Live (Mostly) reunion show has now come under fire from several viewers, who have complained to Ofcom that the special didn't contain enough swearing.
The final night of the show was simulcast on the U.K.'s Gold channel — a digital network devoted mostly to reruns of classic British comedy — and due to the live show's start time of 7.30pm, therefore began its broadcast prior to the watershed. This meant that certain moments in the show had to be censored — either with bleep sounds, or in the case of one routine replaced entirely by a pre-recorded sequence — and this has raised the ire of fans, with 34 of them complaining to Ofcom about the "cuts" and "censorship". The show's second half, which resumed after the watershed, was however shown unexpurgated.
While Gold have not yet responded to the criticism, Ofcom have made clear that such editorial decisions are out of their hands. A spokesman for the regulator told the Press Association that "All our licensees are required to comply with our broadcasting rules, which make clear that the most offensive language cannot be shown on television before the watershed. As a post-transmission regulator, we are not involved in editorial decision making and can only investigate programmes or take action against any channel after a programme's broadcast."
Hopefully the fans disappointed by the censored version will have at least noticed Gold's later, entirely post-watershed repeat of the show, which did restore all the missing rude stuff. Nevertheless, there's something appropriately Monty Python-ish about a show being complained about for not being offensive enough, don't you think?
See more:
'Monty Python's Final Circus Gets Global Cinema Release
PHOTOS: Michael Palin, Terry Jones, Eric Idle, John Cleese and Terry Gilliam Reunite for 'Monty Python Live' Rehearsal
The Moaning Of Live: Monty Python's Return In Full
Read More
Filed Under: