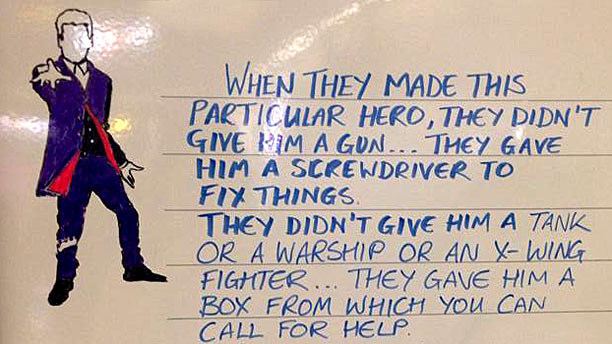 Today is the first day of the Doctor Who World Tour; it's a chance for fans and the press to get to meet Peter Capaldi and Jenna Coleman and Steven Moffat, and talk over what is about to happen in Season Eight, including the world premiere of the first episode, "Deep Breath."
To celebrate the occasion, which began in Cardiff earlier today, and to prepare London travelers for the imminent arrival of the new season on August 23, Transport For London have devoted one of their passenger information boards in the Underground to a very familiar image indeed.
At Tufnell Park station this morning, Talia Kraines came across the faceless image of the Twelfth Doctor in his new togs and the following inscription from Steven Moffat underneath:
"When they made this particular hero, they didn't give him a gun… they gave him a screwdriver to fix things.
"They didn't give him a tank or a warship or an X-wing fighter, they gave him a box from which you can call for help.
"And they didn't give him a superpower or pointy ears or a heat ray. They have him an extra heart."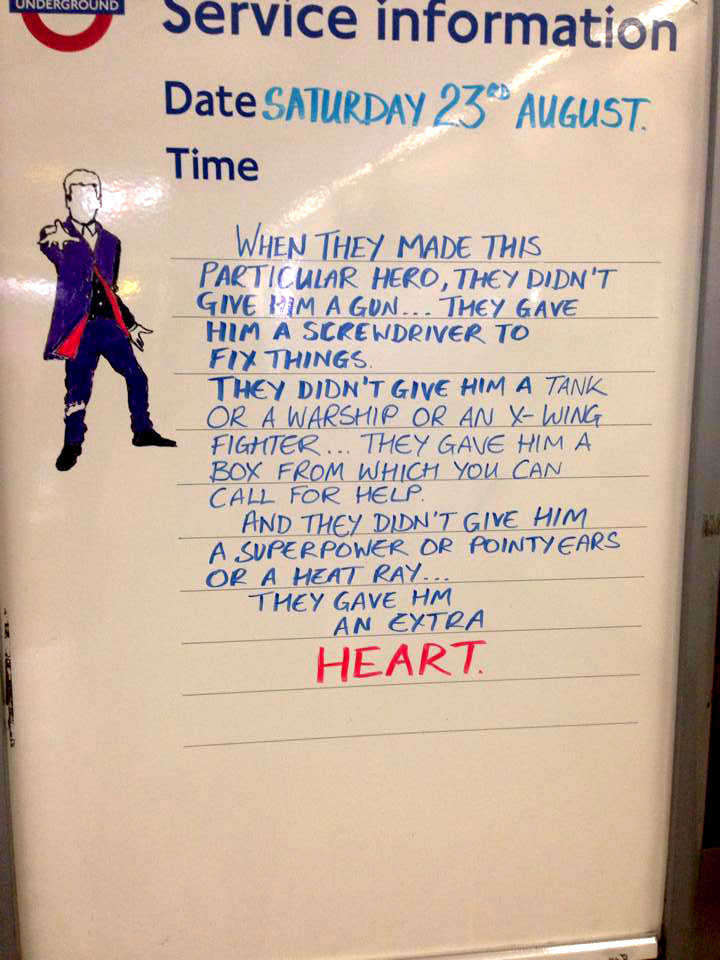 For all the latest news and images from the Doctor Who World Tour, check out the official site.
See more: 
Doctor Who's Day Roundup: Minecraft Invasion
'Doctor Who' Back on the Cover of Entertainment Weekly
'Doctor Who' Gets a Lego 'The Day of the Doctor' Remake
Frank Cottrell Boyce Brings a Cast of Children to 'Doctor Who' Season Eight
Read More
Filed Under: