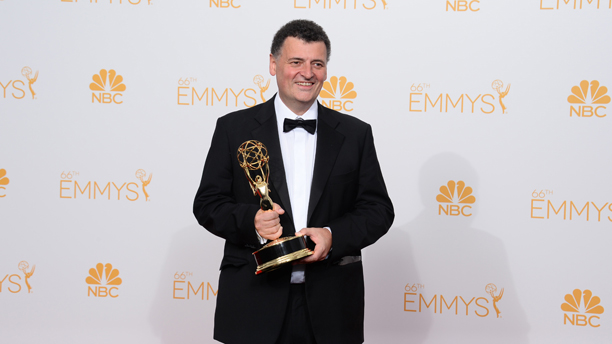 Benedict Cumberbatch, Martin Freeman, and Steven Moffat will all wake up in the morning as Emmy winners. And that is a wonderful thing.
Sure, it was clear Emmy voters really, really liked Sherlock: His Last Vow; the final episode of the drama's third season had received 12 mentions when Emmy nominations were announced in July. And it was riding a wave of momentum from its four wins at the Creative Arts Emmys last weekend (August 16). But for Emmy prognosticators, the smart money was on Normal Heart and Fargo sweeps during the main event. (Normal Heart's Matthew Bomer was considered a lock for before anyone had seen a moment of his performance from the HBO telefilm.) Therefore, we were genuinely and pleasantly surprised to see the series and its inimitable stars rack up so many victories tonight (August 25). (Normal Heart and Fargo did pick up Best Movie and Best Miniseries, respectively, so they didn't leave empty-handed.)
Neither Cumberbatch nor Freeman were around to pick up their hardware for their respective Lead and Supporting wins—a shame, as their charm and British wit guaranteed epic acceptance speeches. But Steven Moffat was on hand to receive the award for Outstanding Writing for Miniseries, Movie, or Dramatic Special. And he dedicated his trophy to his wife and Sherlock producer Sue Vertue and to co-creator/executive producer Mark Gatiss:
It must feel really good to be Moffat right now: he's the showrunner for Doctor Who, which is coming off massive TV ratings for its eighth season premiere (with new Doctor Peter Capaldi) in the U.K. and record TV ratings for its BBC AMERICA launch. Well done, sir!
The rest of the Emmy telecast didn't have much in terms of British wins or any highlights to speak of at all, beyond the umpteenth win for Modern Family in the Comedy Series and the snub of Oscar winner Matthew McConaughey for Breaking Bad's Bryan Cranston for Best Actor in a Drama Series. A truly moving movement did come at the end of the In Memoriam segment in Billy Crystal's tribute to his friend Robin Williams, who died this month at the age of 63.
https://www.youtube.com/watch?v=q86u0bDE17w
See more:
Benedict Cumberbatch Has Just Won the Ice Bucket Challenge
WATCH: Why Fans Love Benedict Cumberbatch So Much
Why Martin Freeman Pretended His Wallet was Stolen at His 'Sherlock' Audition
Read More
Filed Under: