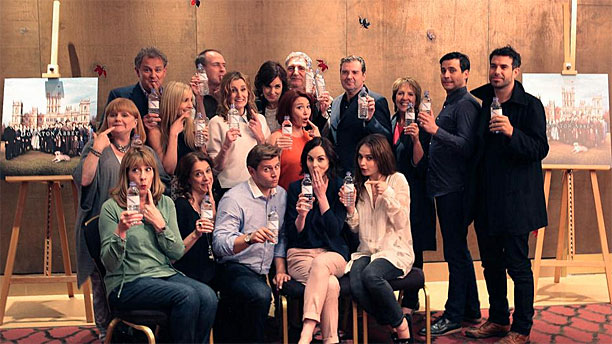 It's not often you get to add the suffix "-gate" to a scandal and have it fit so perfectly with the reason people add the suffix "-gate" to scandals in the first place. That's just one of many reasons to be thankful that Downton Abbey, in the midst of shooting some promotional shots for their forthcoming new season, accidentally left a very modern-looking bottle of water on the mantelpiece behind Robert Crawley, Earl of Grantham (Hugh Bonneville) and Lady Edith Crawley (Laura Carmichael).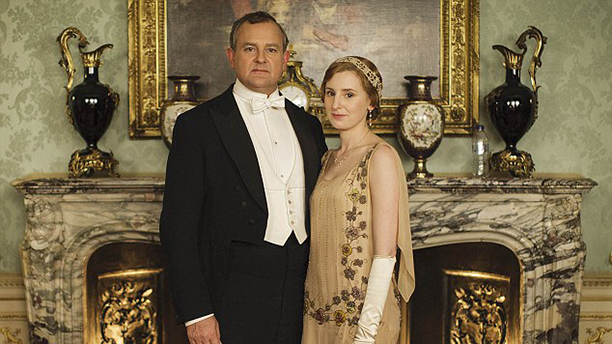 Another is the extremely classy way with which they dealt with the situation. On Saturday ITV released a new publicity image showing the cast and crew all posing in modern dress and holding water bottles, and pledging to use all of the attention created to support the work of the international charity WaterAid.
An ITV spokesperson told the press: "After seeing the reaction the picture caused earlier this week, the cast and crew came up with the idea of turning some of this attention towards an issue around water that really matters."
Barbara Frost, Chief Executive of WaterAid, said: "It brought a really big smile to my face when the cast of Downton Abbey said that they wanted to support WaterAid's work. How fantastic that the attention created over one water bottle ends up benefiting some of the world's poorest communities through access to safe, clean water today.
"Every pound and penny WaterAid receives will be matched by the UK Government, which means we can reach twice as many people with desperately needed clean water and sanitation. Thank you so much to the cast and the producers of Downton Abbey."
A spokesperson for the show added: "It's testament to the huge success of Downton that something like this makes headlines around the world. While the water bottle is in the uncropped version of a publicity photograph we can assure you that it will not be making an appearance on screen."
See more:
WATCH: First Teaser For 'Downton Abbey' Season Five
Karen Gillan: "'Downton Abbey' Plus 'Harry Potter' Doesn't Make for a Good Aberdeen Accent"
Will 'Downton Abbey' Ever Achieve Simultaneous Transmission in the U.S.?
Watch: Ellen DeGeneres Helps Minnie Driver Audition for 'Downton Abbey'
Read More
Filed Under: