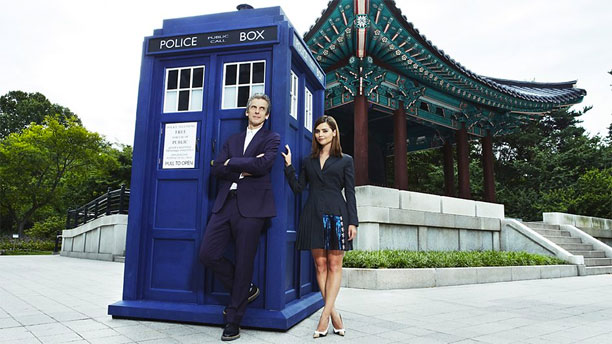 There is simply far too much stuff to get through this week without spending a lot of time talking. Suffice to say that the Doctor and Clara are off on their travels to new and exciting places, and no one is quite sure what they will find when they arrive.
So, Mr. Capaldi, if you wouldn't mind explaining what's been happening for the last few days:
• Here's our roundup of the first day of the World Tour in interviews.
• And here's a brief summary of things discussed at the London premiere of "Deep Breath" on Friday, August 8.
• Radio Times' roundup of 10 odd things they learned at the London premiere of "Deep Breath."
• And here's Peter and Jenna arriving for the South Korean leg of the tour:
• And what was Capaldi pointing at in the below picture? Well, we learned that at the Seoul Q&A.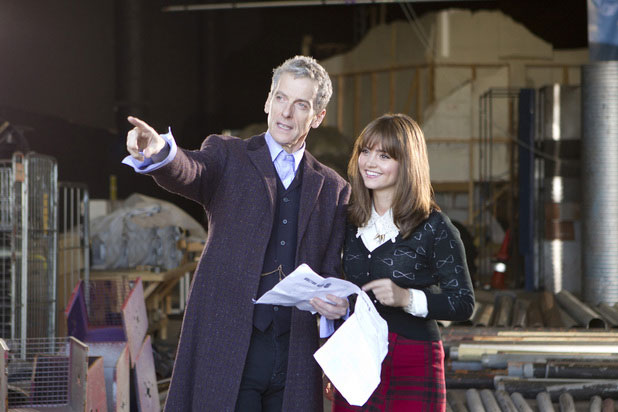 In Sydney, this happened. Goose. Bumps:
Keep up with the tour at the U.K.'s Doctor Who website.
Here's what else is going on in space and time this week:
• As well as the tour, the first plot summaries of "Deep Breath" have been released. Skip past the next two paragraphs if you want to avoid spoilers:
*SPOILERS*

Short version: Clara is alone in Victorian London with a man she doesn't know, a dinosaur in the Thames, and a spate of deadly spontaneous combustions. The Doctor has changed. It's time you knew him.

Long version: When the Doctor arrives in Victorian London he finds a dinosaur rampant in the Thames and a spate of deadly spontaneous combustions. Who is the new Doctor and will Clara's friendship survive as they embark on a terrifying mission into the heart of an alien conspiracy? The Doctor has changed. It's time you knew him.

*SPOILERS OVER*
• Look, a new trailer too!
• Steven Moffat admits that he'd like to see a Doctor Who/Sherlock crossover, but it might take a while to convince his workmates: "Go speak to Cumberbatch, Freeman, Gatiss and Vertue, OK? They're all in the way. I'm not the killjoy, it's that lot. It's probably not going to happen."
• A nice post on the "doppelganger dilemma"—when actors take two roles in Doctor Who.
• 10 things you didn't know about Peter Capaldi, not including the next item on this list…
• Peter Capaldi has great hands.
• Here's Peter Capaldi through the years via BBC AMERICA's Doctor Who website.
• BBC AMERICA is also offering U.S. Doctor Who fans a chance to "Make Your Own Sunday." Whovians can vote for their favorite modern Who episode and special through Monday, August 18 at 12 pm ET, and the top picks will be aired in an all-day marathon on Sunday, August 24 (the day after the "Deep Breath" premiere).
• James Corden has been confirmed as one of the candidates in talks to take over from Craig Ferguson as the host of The Late Late Show. Here's a handful of reasons why this might be a really good idea (especially for Whovians).
• Is this the most Whovian wedding in the galaxy?
• And finally, let us pause a moment and salute the member of London Underground staff who put this wonderful image on the board at Tufnell Park Tube station, late last week: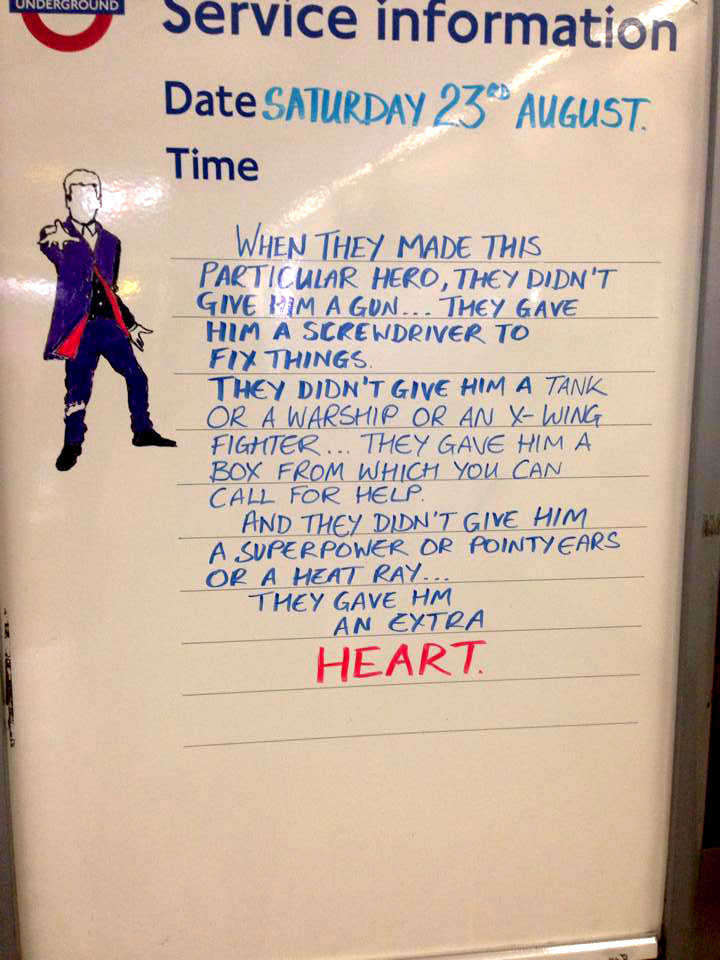 TTFN!
Read More
Filed Under: