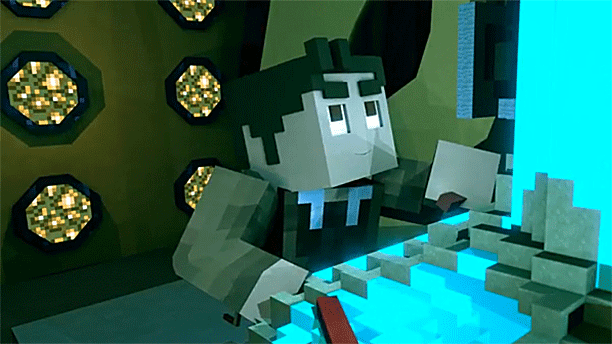 Before we get to the huge scroll of astonishing things that are happening in the name of Doctor Who over the next few weeks, do just take a moment to watch this. It's called "Ender the Doctor," and it's an animation by the YouTuber Jeen Epinga (keyboarder200) in which the Tenth Doctor arrives in the universe of the (astonishingly popular) game Minecraft.
It's not the first Whovian Minecraft animation, of course, but it may be the best:
Seriously, watch it through to the end and then ride the goosebumps.
Here's what else has been going on in space and time this week:
• The Doctor Who World Tour starts in two days' time in Cardiff. All the news on the special events and interviews will be available on the Doctor Who site, as they happen. And in the meantime, they've asked fans to print out and photograph this model TARDIS in some novel locations. Get to it!
• Hot news about the return of Doctor Who on August 23! Not only will "Deep Breath" be accompanied by a live pre-show and post-show special on BBC AMERICA—hosted by Chris Hardwick from 7:30 ET, and with backstage footage and the special guest appearance of Mark Gatiss—there will also be midnight screenings later that evening (as the day changes from Saturday 23 to Sunday 24) in twelve U.S. cities, with another 550 showings on Monday, August 25. Check www.FathomEvents.com for more details.
• And if you want to find out more about the cinema showings worldwide, check the Doctor Who site.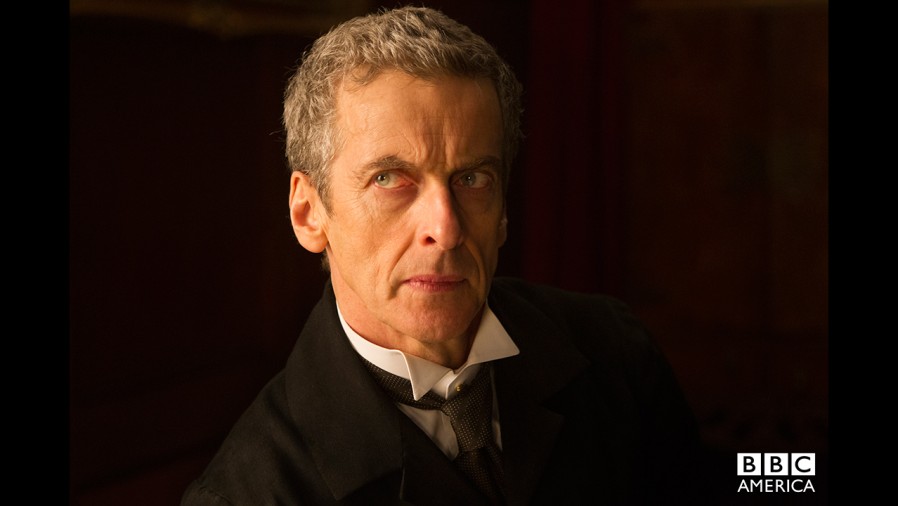 • Then there were the new Season 8 photos (see above), released late last week and showing the Doctor and Clara working with the Paternoster Gang once more.
• Let's see, what else? Oh yes! The front cover of Entertainment Weekly! That's what! 
• Inside the magazine, Jenna Coleman ran through a few of the guest stars on the new season.
• Not to be outdone, SFX magazine have provided not one, but FIVE front covers!
• Radio Times has a great collection of Doctor Who-themed street art.
• They also ask how well you know Peter Capaldi, in the form of a quiz.
• The Doctor Who Symphonic Spectacular is off on a U.K. tour.
• And they're going to Australia too.
• Arthur Darvill has been the latest to celebrate Peter Capaldi's arrival as the Doctor, saying, "I spoke to Jenna last week. Peter Capaldi will be frigging awesome."
• Speaking of which, did you know the identity of the Twelfth Doctor was announced exactly a year ago yesterday? Here's our roundup of his first 12 months.
• In a new interview with SFX, Steven Moffat talks a bit about Peter Capaldi's costume, particularly its sleekness. He also hints that Capaldi's Doctor will mix it up a bit on the wardrobe front.
"The one I like best is when he wears the jumper under his coat," he said, likening him to a "rugged and handsome" submarine captain.
• Noel Clarke has written a comic book called The Troop, which he describes as an edgier take on the teen team comic genre. Watch him talk about it below:
• Holly Black, creator of The Spiderwick Chronicles, has written a new Twelfth Doctor short story entitled "Lights Out," which is available as a standalone e-book and part of the compilation 12 Doctors, 12 Stories, from October 23.
• What does the Doctor have in common with Sharon Stone? Wales Online has a few ideas.
• An interview with Karen Gillan about Guardians of the Galaxy, in which she claims to be a born baddy: "This is my first villain—the first of many one would hope."
• Remember Osgood from "The Day of the Doctor"? She has a message for you Whovian YouTubers:
Let's go out with something utterly charming. Sesame Street recently put up a spoof of Comic-Con, complete with "Doctor Two" and what must presumably be a THREEDIS. Maybe a visit from the real Doctor is in order, brought to you by the number 12:
TTFN! Read More
Filed Under: