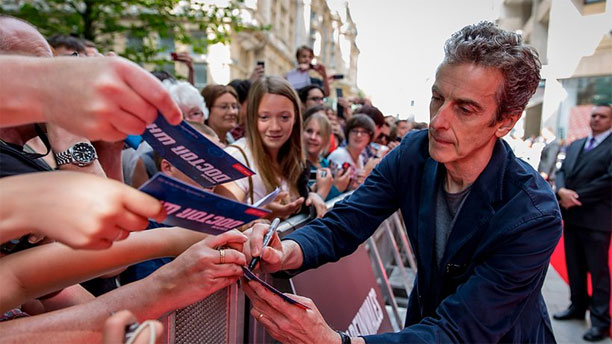 Yesterday the Doctor Who world tour took off with quite a bang! It began with a ton of media appearances, particularly for the new Doctor Peter Capaldi, continued with a red carpet premiere of the first episode of Season Eight, called "Deep Breath," and ended with a triumphant Q&A at Cardiff's St David's Hall, before packing up and heading off to do the same thing in London.
Here's the view from Cardiff, as taken by the Doctor Who website:
Then there was a glorious interview on BBC Breakfast, in which Peter discussed first the Doctor's new, flinty demeanour: "I was keen that he be a little darker, less user-friendly, but he's funny, y'know, he's still a very joyful character. He's just a little more… he doesn't care very much what people think about him. But he's still full of joy, he still loves the universe, he still loves his life."
He also addressed the possibility that peope might be put off such a huge jump in age between Matt Smith and himself, with neat reasoning: "I think there's a magic about him that is not about being in your 20s or your 30s. We don't consider the Wizard of Oz to be too old, and we don't consider Father Christmas to be too old. These are mythical, magical characters. And the fact that they've been around the block only adds to their magic, I think."
"One of the wonderful things about Doctor Who is that I believe somebody somewhere will love me, for somebody somewhere I'll be somebody's favorite Doctor, even if everybody else hates me. Someone will think I'm just the bee's knees."
Here's Peter at the event itself, speaking to BBC News.
And again, discussing his time in Cardiff with BBC Wales.
Speaking after the first screening, Peter said putting on the Doctor's frock coat was not something he took lightly: "I felt a great responsibility, because I know how important the show is to people, but I thought: it doesn't get better than this. I realized there isn't a specific actor that I modeled myself on, but I was actually brought up on Doctor Who, so William Hartnell and Patrick Troughton, Jon Pertwee, Tom Baker and Peter Davison, they are sort of in me and taught me how to act because I spent a lot of time trying to be them. So I suddenly realized that when I was out in the world, trying to be an actor, I was constantly channeling those guys."
And he explained that the new series will re-state those internal conflicts that the Doctor always struggles with, because he has to live with the consequences of his decisions for such a long time: "Having had the life he's had, the Doctor is always going to be haunted by his past. This series, there are themes of ego and personality. You see the Doctor struggle with who he is, and whether the life he leads is an accurate expression of his spirit. And I also think there's a deeper well of love in the show now, that was only touched upon in the earlier shows. I think the Doctor loves Clara in a very deep way that is not just about romance, so it goes into deeper territory of affection."
Best of all though was his answer to the question from a young fan dressed as the Tenth Doctor, at a Q&A session after the screening:
"If you could go back in time and tell yourself that you would be the Doctor one day," the little chap said, "what would you say to your current traveled-back-in-time self?"
To which Peter replied: "I'd say, don't listen to what anyone says: you're good. Go put your anorak on. Get your thick bottle-top specs. Draw your little cartoons and your comics and keep writing to the BBC."
See more:
London Underground Prepares for 'Doctor Who'
'Doctor Who': Chris Hardwick Live Specials, Theatrical Screenings of Premiere Announced
'Doctor Who's Day Roundup: Minecraft Invasion
Steven Moffat on Peter Jackson Directing 'Doctor Who': "I Think It Will Probably Happen"
Read More
Filed Under: